Top 10 Interior Designer in 2021

Interior Designers are experts in creating and improving efficiency, functionality and practical usage of the space. Furthermore, crafting and blending different textures, patterns, scales and lighting effects with a certain sensitivity, tasteful standards in decorating the interior space.
Having a good Interior Designer can change your experience in your renovation journey.
Rezt+Relax understands its importance and hence we've always kept up and improve in not just the skillsets and trends but the quality that our Interior Designers and partners ensure to bring.
Below is the list of the Top 10 Interior Designers in Rezt+Relax in the year 2021:
1-Nicky Haw
Nicky used to be an Interior Design Coach who devotes 2 years of his life at the beginning stage of his career to educating aspired-to-be individuals, as well as professionals who want to keep up and improve their Interior design career. Great feedback has been a critical aspect for him to strive and achieve his dream in his ID career.
In his 8 years in Rezt+Relax, he is a well-established ID who never ceases to amaze the crowd and his fans. He has been featured in multiple magazines and media such as Straits Times, Home & Decor, Square Room, Lookbox, and more.
With 20 years of experience, he is Niche in design Exquisite Luxurious High-end homes with a pinch of Modernism. As he gained overwhelming compliments from his clients, he strives to help transform more spaces into stunning aesthetics with ambitious standards of Top-Notch qualities.
View more of his Design work here: Home Tour | Portfolio
2-JJ Yang

JJ Yang has a Passion for Space, his ability to conceptualize & create an efficient space has motivated him to strive for the best and better for his clients. JJ focus and design through looking at the plain perception of surrounding space, and through communication with homeowners could establish a clearer picture of what exactly their lifestyle's needs are and meeting their aesthetic expectations.
JJ graduated Degree in Space planning, he is not only humble but self-motivated. He has 7 years of experience with Rezt+Relax. There is no greater thing than keeping up with his knowledge, updating and learning the current trends such as materials & finishes. He would explore the influence of similar industry and gain further design inspiration. Nothing is more important than creating a comfortable space that is both functional, versatile and efficient for the homeowner.
JJ is proactively committed to tailor to his client's ideal comfort home. His professional work has also been featured in the local magazine, Square Room. His best and favourite Interior style is Minimalist.

View more of his Design work here: Home Tour | Portfolio
3-Tony Poh

Meet an Interior Designer who is Inspired by Music and Arts. The relationship between interior and music enables us to enjoy the Interior space by using our senses to feel what we hear and see; in other words, Achieving greater levels of experience in the Interior. Tony Poh creates Interior spaces that are not just effectively practical but also with a refreshing blend of colours that have a great mood for lush and inviting aesthetic. Tony explores Inspirations from around the world during his travel trips as well as keeping ahead of Trends by always looking out for new materials that can be potentially used in his projects.

With the passion and interest in Interior design, Tony constantly improves the quality of his design, ensuring his client's needs and balancing the Interior composition with parallelism impart visuals.

Tony has been in the Interior Design Industry for 15 years and has made a fast ascent to the Top 3 Interior Designer here at Rezt+Relax with his 5th-year career here.
View more of his Design work here: Home Tour | Portfolio
4-Shawn Haw

A Professional Interior Designer can truly improve quality of life. Shawn Haw is an well-experienced Interior Designer with 15 years of experience in the industry, he loves finding his design inspirations from daily life that would bring a smile on his client's face. The appreciation and good review by his clients had always given him a positive energy to push him to grow further in this Industry.
Being a Professional Interior Designer, he loves turning a mere thought into a concrete reality for his clients. That, in particular, is one feeling of sheer satisfaction. Shawn believes that details is one of the main factors in enhancing an overall Interior theme. Nonetheless, everything else such as the ambient and aesthetic, also the practical function has to be just right and fit in as well. Even the smallest features are maximized in the world of Shawn's design.
Shawn's design works have also been featured in multiple Magazines such as Square Room, Lookbox and more. His most popular design is a style towards something simply unique and emphasizes the light-filled in a minimalist aesthetic.
View more of his Design work here: Home Tour | Portfolio
5-Angelyn Wong

Angelyn Wong is especially good and patient concerning her client's expectations. Her sincerity, thoughtfulness & going-extra-mile attitude complement and strengthen communication with her clients, understanding their needs and lifestyle better.
Her ID career came as a surprise to her 11 years ago, referred by a friend. Drives and determination have kept her going in the Industry, as time goes by she has amazed many people with both her work attitude as well as her design sense. She turns attention to little details such as gold profiling in especially Modern Luxury homes design style and concept. As well as, Light-play for the beauty and artful blends along with home furnishing and knick-knacks styling in the home space.
Embarking on every new Interior project, Angelyn gained satisfaction generated not only through the art of creation & design but also the overwhelming words-of-mouth recommendations by her clients. She has now got a decade of experience creating beautiful and unique spaces for her client. In addition, her design works have been featured in reputable magazine, Square Room.
View more of her Design work here: Home Tour | Portfolio
6-Alex Tan

The saying goes, "try putting yourself into others shoes" is one of the keys for Alex Tan's success in his ID career. He provides attention and is enthusiastic to find-out where another person is coming from, so he can understand most aspects of how his client's lifestyle is. From knowing their particular opinion to getting-the-hang of his client's cultural traditions and domestic usage of the space.
In the Interior design process, it is never just about space-planning, the blend of line, forms, colours and lighting is equally important as getting-the-space right. One of the perks of being a Professional Interior Designer is his capability to analyze spaces and making it much versatile and space-savvy.
Make a squeal of excitement through seeing Alex's Interior design works with bold and playful lightings, adding a sense of fun and life into the home space. In addition, out of the 9 Luxus Hill's landed houses that are ongoing projects for Rezt+Relax, Alex is designing 6 of the houses. In his 8 years of experience, his design works have also been featured in reputable magazine; Square Room.
View more of his Design work here: Home Tour | Portfolio
7-Danielle Teo

Nurturing a passion for design since childhood, Danielle discovered her own style and philosophy during her time at Rezt+Relax Interior. With over 9 years under her belt, she has risen up to a Senior Designer role and prides on being able to adapt herself to a wide variety of design aesthetics — from Modern Luxury, European Chic, Scandinavian, Minimalist, Modern Contemporary and many others. Danielle emphasises listening to the customer, understanding their lifestyle and their own thinking of how their homes should look, and then incorporating the design to realise their dreams. Her design work, as well as her after-sales service, has seen numerous customers come back to her, seeking inspiration and advice for more projects and renovation work. In addition, her design works are featured in reputable magazines and local media such as Square Room, Home & Decor, Strait Times and Lianhe WanBao.
Having learnt the ropes at Rezt and Relax herself, Danielle does her part in training the newbies, treating them like family and creating a close-knit bond within her team.
View more of her Design work here: Home Tour | Portfolio
8-Tony Teng
Tony Teng loves transforming houses into homes, bringing his client's dream home to life. As a Senior Designer who is the Top 8 Designer in the company, Rezt+Relax In his 8 years of experience he clearly and truly understands what his customers want. He is especially niche in evaluating the accuracy of his work.
At the heart of designing the home, Tony envisioned creating more than just an aesthetic space. It is important to find a balance between functional and creatively gorgeous Interior Design.
View more of his Design work here: Home Tour | Portfolio
9-Bernard Ling

Interior Design reflects a Lifestyle, Bernard always believes that every design reflects the homeowner's personality and lifestyle. In many ways, home reflects our culture, values and the energy that flow in the house. He truly believes in bringing good flow into the Interior Design, letting homeowners breathe into the space.

In the Interior design process, the foremost step to any design will always be understanding the homeowner's expectations and point of view, the visuals they would prefer and the storage spaces needed in their Lifestyle. What motivates Bernard most in his 20 years of experience at Rezt+Relax is seeing a smile on his client's face and gaining trust and reliability from his clients. Being a perfectionist in Interior design, he has always strived to compose visual balance into the space and its design details. When it comes to design details, there's no restrictions or rules so that the homeowner can have the best of what they want.

Being able to be recognized by the public through Magazine features upon his 4th year of work in Rezt+Relax, has deeply motivated him to go all out to keep striving to improve his client's home and lifestyle through Interior design. Keeping on track with trends, he is always looking out for show flats and recent revamped staycation for extra Inspirations. Thereafter, making great achievements having countless Magazines, Newspaper, online media and TV shows; Renoaid featuring his excellent design.
View more of his Design work here: Home Tour | Portfolio
10-Pauline Yeong

Pauline Yeong has a strong desire to create a sense of indulgence and relaxation through smart and innovative technology interior designs. This is not only pleasing to the eyes but makes a great and convenient experience for both homeowners and their guests.

It's important to stay on-trend with clever functionality that is both user-friendly and space-saving. Being a Professional Interior Designer, Pauline is more than just being creative, the ability of trend identification and knowledge for sustainable practices are just as important for helping her client's create their dream home. Pauline has 6 years of Interior Design experience under Rezt+Relax, her niche is a classic pairing of the Black and the White ambient as well as Dark interior palettes with a modern luxe look.
View more of her Design work here: Home Tour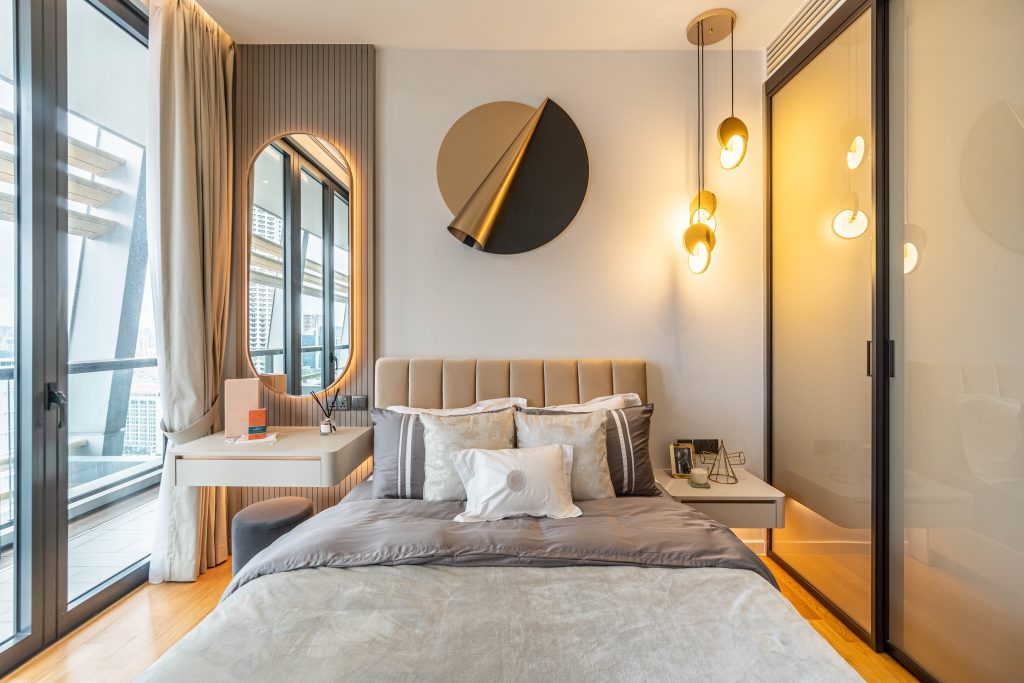 We are the Interior expert you're after. Our team of experts will be with you every step of your renovation journey. We'll elevate your home to a whole new aesthetical level with your budget. Kickstart your renovation journey with us now!
Let us know your Interior design requirement so we can plan for your dream home. 👉🏻 Talk to Us Now! WhatsApp @ 6597215338
– – –
Take a Glimpse!

We've renovated multiple Celebrities and Famous people's houses.
Here's what our customers say about us: https://www.reztnrelax.com/testimonials/
– – –
Follow us on our Social Media:
Facebook: https://www.facebook.com/ReztRelax/
Instagram: https://www.instagram.com/reztrelax/
Youtube: https://www.youtube.com/c/ReztRelaxInteriorDesign/
Tik Tok: https://www.tiktok.com/@reztnrelaxinteriordesign
Pinterest: https://www.pinterest.com/reztrelax/
Xiao Hong Shu: http://tiny.cc/n9bxtz
DouYin: https://v.douyin.com/eQWSbNE/
– – –