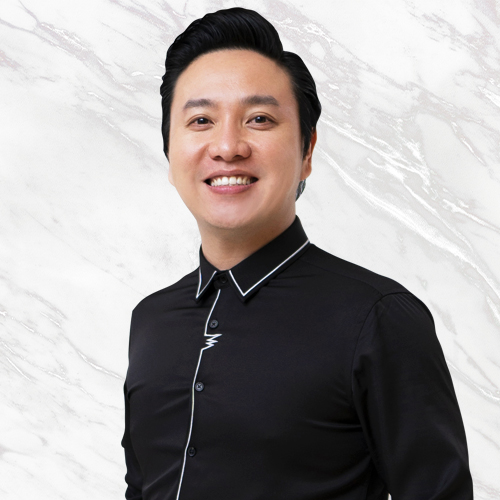 Designer Profile: Nicky Haw
Interior Design is the process of solving problems from a creative perspective. It's a snap for Nicky Haw to realise his Inspirations from every line drawn and every conversation with his clients. It's his instinct to solve every single detail and expectation for homeowners.
Nicky used to be an Interior Design Coach who devotes 2 years of his life at the beginning stage of his career to educating aspired-to-be individuals, as well as professionals who want to keep up and improve their Interior design career. Great feedback has been a critical aspect for him to strive and achieve his dream in his ID career. 
In his 8 years in Rezt+Relax, he is a well-established ID who never ceases to amaze the crowd and his fans. He has been featured in multiple magazines and media such as Straits Times, Home & Decor, Square Room, Lookbox, and more. 
With 20 years of experience, he Niche in design Exquisite Luxurious High-end homes with a pinch of Modernism. As he gained overwhelming compliments from his clients, he strives to help transform more spaces into stunning aesthetics with ambitious standards of Top-Notch qualities.
Nicky Haw hails from the humble city Alor Star, Kedah in Malaysia. Now a Singapore PR, Nicky holds a UK certified advanced diploma in interior design. Mr. Haw is so exceptional that during his studies, he was a part-time tutor and eventually became a lecturer after graduation for close to 2 years.
He is an award-winning designer with over 17 years of industry experience. Having worked for 15 years prior to joining Singapore's premier interior design firm Rezt+Relax Interior, it has been over 2 years since he has become a major asset of the company.
A natural artist who can sketch and do architectural drawing, Nicky finds satisfaction in providing not just practical solution to his customers needs but also imparting his creative genius that becomes the practical solution itself. He is an out-of-the-box thinker with his imagination as his only limit.
In any line of work, it does get too hectic at times and his way to keep himself motivated and recharge his creative neurons is when he gets to get away at some resort and allow the beauty of the sea and the nature surrounding him fuel his passion once more.
Video Highlights
Project Milestones
Customer Testimonials
I would like to express our appreciation for the professional manner in which he handled the renovation of our home. This young man displayed a greater level of experience, creative intuition, and ability to visualize design ideas than any of the other more well-known designers. I have ended up with what I had envisaged in my mind plus all of his many extra inputted ideas. His guys are great and it was totally comfortable having them in our house, so thank them as well.

Ms Fong

HDB in Jalan Kayu
Nicky's input allowed me to use my ideas and grow them into something even better through his suggestions and expertise! Throughout the whole project, I was kept abreast of the progress; involved in any changes that were required due to the existing construction of my home; as well as provided with the respective options to ensure my satisfaction.

I was particularly pleased with his administration of the project and with the time he took to explain various aspects of the renovation process to me. His assistance and advice in helping us to make various decisions along the way was also greatly appreciated. We are delighted with the final result and look forward to enjoying our home for many years to come. We wish him all the best in his future endeavours.

Mr. Yeo

Punggol Central
Thank you so much for all your assistance with our renovations and our sincere appreciation to Nicky and the team who did a fantastic job and were lovely people too, which I really appreciated. We continue to have lots of interest and enquiries from friends and definitely we will recommend Nicky with great pleasure.

Resident of Trizon
Just a quick note to say Thank You for your excellent work on our recent renovation. Your cooperative and innovative attitude was refreshing. Your attention to detail resulted in a quality job. Most renovators take a let me do it all approach resulting in the client feeling pressured to buy what the renovator suggests versus what the client wants. You helped us with our choices and then put everything in place just the way we wanted it.

It was an excellent choice of designer and I will certainly call you again for any future renovations! Good job Nicky!

Mr Jerry

Toa Payoh