The home of our Executive Director aka Towkay Mr. Wilson Teh has been featured in multiple media such as Yahoo, Renoking, and more… He welcomes customers who are interested in building their own landed homes to visit his recently remodeled home.
An original single-storey house in Sembawang has now been converted into a three-and-a-half-story semi-detached house. When he bought the semi-detached single-storey property in 2018, it was valued at S$2.75m and it is with a built-up area of only 1,500 sqft. It sat on 3,228 sqft of land, which translates to about S$852 psf at the time. Before he rebuilt it, it had three bedrooms and three bathrooms. Today, the house is valued at about S$5.2m.
In the living area, large glass windows provide a feeling of spaciousness. In addition to the 6-metre high ceiling, the house is spacious and bright, making it a stylish and comfortable place to indulge and live in.
An elegant spiral staircase leads to a room on the mezzanine where the entertainment room aka the movie theatre is. This space is particularly suitable for family bonding and can be used for watching movies and singing along in KTV mode too.
An inviting, soothing bedroom with a Royal Green feature victorian styled feature wall. One of his daughters, who loves manga and draws beautifully in her workspace, has a bedroom filled with characteristics. (visit our Tiktok account to view more of her room)
In the Master Bedroom, the hidden LED lighting follows a horizontal line around the walls of the bedrooms, creating a calming atmosphere, ideal for the bed area.
Having a large glass display in your Master Bedroom to show off your favorite collection would be the most ideal storage solution for his wife's designer leather handbags and purses.
In the master bathroom's space, intimacy is a very significant factor to consider, even though we spend less time there than anywhere else. Create a luxurious experience in a bright marble bathroom.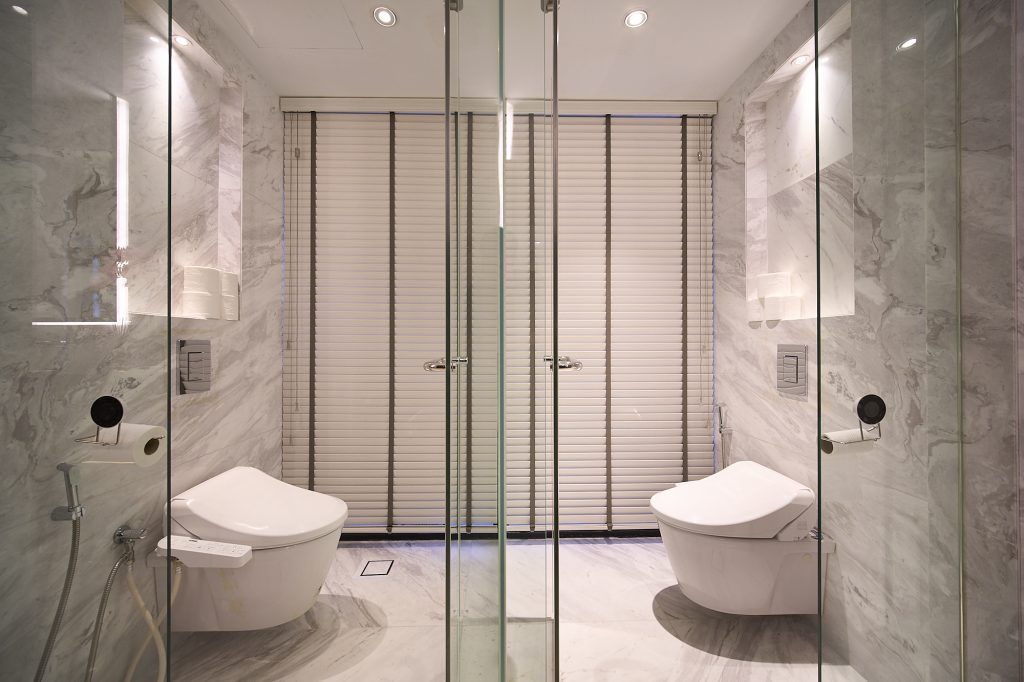 At Rezt+Relax, we have renovated many local celebrity homes such as Mediacorp Artiste Chen Xiuhuan (陈秀环), singer-songwriter Ling Kai (铃凯), and Aiken Chia from Night Owl Cinematics (NOC), among others.
Since you're here, why not view more Home Tour Article? https://www.reztnrelax.com/category/home-tour/

🏠 Connect with us and Explore creative ways you can renovate your home now! 👉Facebook 👉 Instagram ✨Youtube ✨ Pinterest 👉Tik Tok 👉 Dou Yin ✨小红书 Xiao Hong Shu ✨Lemon8