Our local artiste Chen Xiu Huan engaged Rezt+Relax Interior Design to do her home renovation.

We impressed her with our design sense and professionalism, fulfilling her requirements. We are very honoured to have her as our customer, and our brand ambassador.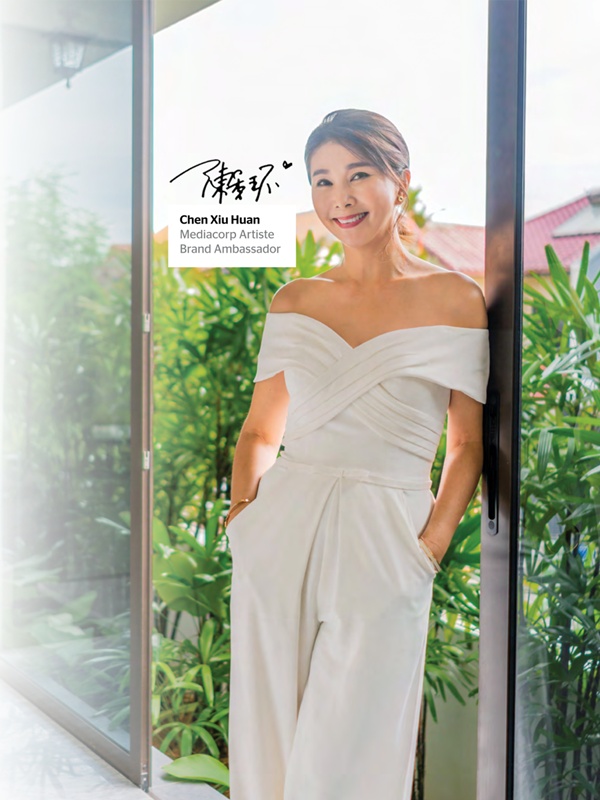 Celebrity's Dream Home: Chen Xiu Huan
The Living room is a fusion of modern and classical interior styles. The Artiste Chen Xiu Huan believes that family elements should be placed around in the Living room, giving life to the space. Her love for adding elements that reflect good memories of the family is essential to her.
Chen Xiu Huan was touched by seeing her daughter childhood's violin memories framed up in her Living room. Violins are very meaningful to her family and it resembles her children's music growth process.
The smallest violin placed in the frame was played by her daughter from the age of 3 to 4, every violin has its own story behind it.
Creating such a highlighted statement piece goes way beyond her expectations and crafted beautiful mesmerizing memories into the home space.
The Home's overall theme is a Modern Victorian Concept.
After a whole day of work, Chen Xiu Huan hope her daughter and husband could come back and have a good rest and unwind.
The kitchen is a very important area to her and that's because it's where she prepares heart-warming meals for the family, to gather and bond. It is designed to be practical, functional, smart, and spacious. This is also her favorite area of the home as the Kitchen fulfills her needs and efficiency for her to whip up a good meal for the family.
Chen Xiu Huan wanted a Wardrobe where she could find any outfit at a glance and could easily access her things, such as her accessories. Our Creative Designer has designed a see-through, walk-through wardrobe for easy access to all the items in the wardrobe space.
We've also created a designed a Meticulous island matching the Victorian theme of the house, along with a Chandelier to match the "blink blink" glamourous handle of the wardrobe.
In one of the daughter's room, Sharlynn Tsai mentioned her room feels Spaciously minimalistic and comfortable. She wanted a simple room with colour palette of white & brown. She also requested for her attic room to consist of a hammock so this can be a cozy reading corner for her.
She especially loves the soothing tones in the room as well as the full-length window.
In the house, there is a small room space that has lesser light ventilation than the rest of the rooms in the house. This dark dim room has been suggested to be a Gym space for the family. This Gym room, is also an interactive family area that now looks spacious and brighter as it is filled with mirrors. To Chen Xiu Huan and her family, it is a communal space where all family members come together, exercise and stay healthy together, motivate each other, and have good family bonding altogether.
Technology makes life at home more comfortable, it can help achieve an optimum living experience to make life so much easier and more convenient. Anything from lights, curtains, fridge, and TV, are all smart in Chen Xiu Huan's house. Simple navigation on phone can turn on and off whenever the homeowner wants. It's perfect for people who are always busy, just like herself. This can make life so much easier and more convenient for homeowners.
This project is done by Designer Cynthia Lee+Lynna Lestari
If you're keen on bringing turning your house into your Dream Home, let us help you with your desired design along with your budget.

Since you're here, why not view more Home Tour Article? https://www.reztnrelax.com/category/home-tour/
🛋️ Follow Rezt+Relax for more Interior Inspiration! 🛋️
Facebook | Instagram |Youtube | Pinterest | Tik Tok | Dou Yin