Dark Bedroom are cosy, alluring and restful.
Never be afraid to use darker shades in the bedroom, as dark room can be dramatic, intimate and simply stunning. It's the way to make bedroom feel more comfortable and in a bedding dark treatment.

(1) The Beauty of Texture
One of the most common mistakes in designing a Dark Bedroom is that using only flat elements and effects on surfaces that can be enhanced. Such as, adding texture that creates visual interest to the bigger picture of the Dark Interior.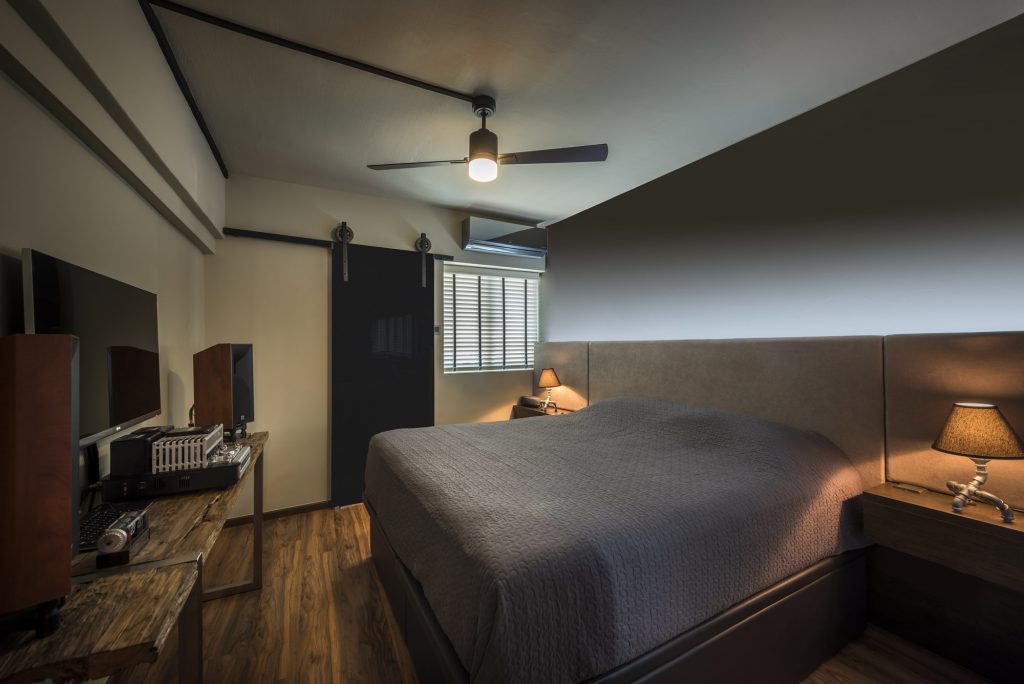 (2) The Feature Wall
A feature wall is also known as accent walls that is a selected wall in your space/room where different textures, shapes and patterns is applied in a different material and it's being installed professionally with a subtile design that reflects the personality of your room space.
(3) Use Reflective Surfaces
Using reflective surfaces is one of the easiest ways to make your home feel brighter than its original state. Shiny surfaces texture catches light and help brighten the visual of the space, especially in darker space it will not be too overwhelming shine and it's perfect for the balance of darkness and light.
(4) Consider Dark Bedding and Curtains
Dim-out curtains works best for the dark room's ambient, along with dark bed's set colour. You can't simply design a dark theme room with room's accessories that does not match well. If you do, perhaps you can consider Dark with Eclectic design instead.
(5) Keep it Simple
Keep it simple, simply darker. Make precise decision, if you want a dramatic dark home interior or just keeping it Minimalist.
Last but not least, creating tone and contrast in the dark colour schemes, stay bold and adventurous with the design & decorations… and you will find countless creative inspirations.
Want to create your desired Dark and Daring Bedroom?
👉🏻 Let us help you with your Design! WhatsApp @ 6597277404
🛋️ Follow Rezt+Relax for more Interior Inspiration! 🛋️
Facebook | Instagram | Youtube

Since you are here, why not read: How Lighting can affects Mood? https://www.reztnrelax.com/how-lighting-can-affects-mood/