9 Details to Instant Hotel Staycation Vibes in your Home in Singapore: Live the high life you want in your own home with these Tips.
1- Get a King Size Bed
If you picture your favourite hotel suites, the bed has always play important role to make a hotel suites feels like one. The bed is the star of the room and having said that, quality matters too for making your home's hotel suites feels luxe.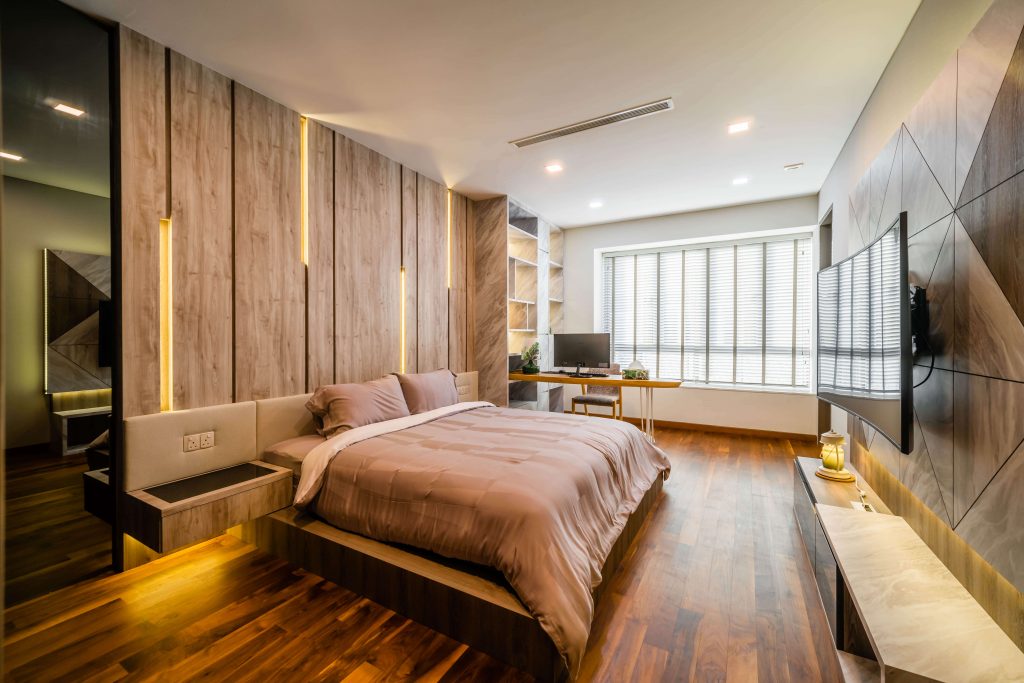 2 – Invest in Quality Mattress
Sleep is one of the best meditations, and we couldn't agree more. On average, we spend one-third of our lives in bed which is long enough to justify spending money on a good quality mattress. A good mattress can somewhat last you a long time and years to go.
3 – Plush Pillows & Luxurious Bedsheet
Yes, we are still at the Bed's topic. Good bedsheet and Plush pillows are just as important to creating the aesthetically mood for your Home's Hotel Suites. It's definitely not just for its look and the feel of the quality that would give you your great sleep.
4 – Introducing Gold to your Room
Thinking of the word "Gold" and images of glamour, luxury and opulence it is usually in the form of jewelry, or possibly an odd gilt-framed mirror or a trim on a lampshade or on furnishing. Just a touch of glitz-glam gold details can make space feel instantly more glamourous. For a more bold statement, make gold a bigger part of your scheme by introducing large gold furnishing or wallpapers.
5 – Rich, Dark and Contrasting toned Wood
Styling dark furnishing against lighter colour walls is the perfect way to make a statement in the space. Rich and Dark wood gives a heavy visual aesthetic to a room. It looks more imposing and takes up more visual space even if the furniture doesn't take up so much space.
6 – Sculptural Light & Accents
Lighting plays an important part of room space, moreover for a hotel-like ambiance. Sculptural Light and Accents may resemble and represent an Art piece on their own, giving an instant visual punch to the room space.
7 – Carpets & Rugs
It's commonly seen that Hotel rooms are carpeted and it's not just because it helps to soundproof the space but also combatting cold floors. Having carpet offers not just a comfy cozy ambiance but luxurious too.
8 – Wall Art
Wall Art adds personality and a pop of colour to any space and you'll often find artwork hanged on walls of hotel lobby and rooms. There isn't a fixed size to every wall spaces, you may just get something that makes you feel relaxed, inspired and happy and comfortable for its proportionate.
9 – Get a Legged Sofa
Hotel suites are cozy and usually furnishing is choose base on how well they fit into the spaces as well as how they can help maximize and create the illusion that it's bigger than it is.
Last but not least, all the best hotel vacation involves having a day and a night curtain to make sure their Guest have enough natural light as well as a great sleep without lighting distraction.
Rezt+Relax has been featured in the media countless times.
👉🏻 Let us help you with your Design! WhatsApp @ 6597277404

Since you are here, why not read: How Lighting can affect Mood? https://www.reztnrelax.com/how-lighting-can-affects-mood/

🛋️ Follow Rezt+Relax for more Interior Inspiration! 🛋️
Facebook | Instagram |Youtube | Pinterest | Tik Tok