Let your Living room tell your story by creating space you want to be in. There are plenty of ways to make your Living space feels comfortable and entertaining for your family. One of the most important aspects is to have a TV console and feature wall to your preference.
1. Framed Mirrors
A Mirrored framed TV feature wall is a way to open up the area by bringing natural light into the house.
2. Marble Bookmatched
Marble isn't just marble. Every slab is distinctive, some are more subtly grained while some others make a statement piece with its very expressive grains. Generally, two of these marble slab that is side by side on the same surface like an open book is called Book-matched. It's an authentic and interesting way to incorporate nature into the design.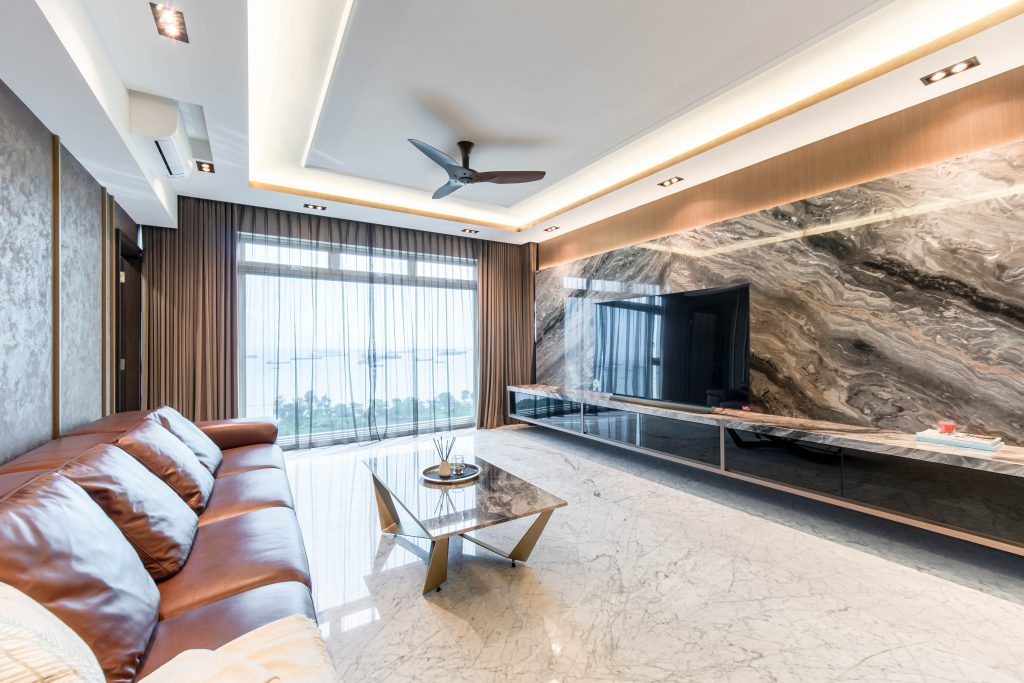 3. Hidden Storage
When you need plenty of storage compartments, make your TV feature wall serve as a double-duty statement wall with hidden storage on the inside.
Cleverly hidden is the way to go for modern homes as it maximise storage space, strategically in home spaces.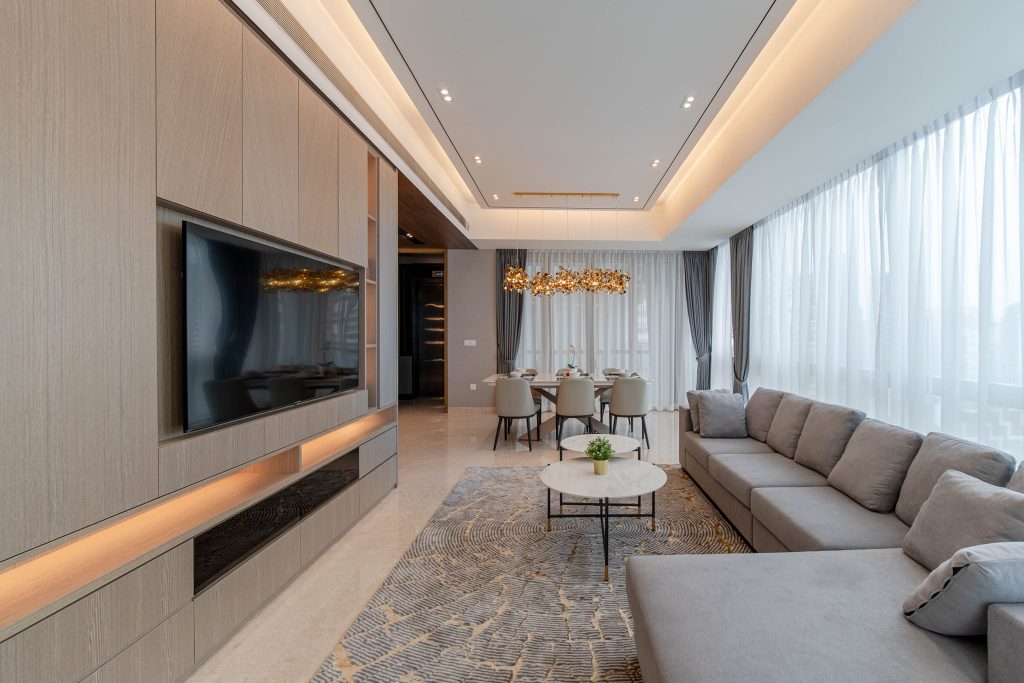 4. Blend into the Colour Palette
Blending TV consoles and carpentry into the Colour Palette of your home hide clutter well, making your home feels mild-minimalism.
5. Accent Wall
Accent walls are back in a big way, and they are evolving it even better than ever. This Accent wall throw in a symmetrical balance looks, with a touch of dimension and sophisticated ambiance.
6. Small Space Feel Big
When done well, a small Living area can feel cozy and often make the space much proportional and less crampy.
7. Cove light Feature Wall
Warm Cove lighting adds a dramatic ambiance to the surrounding in your Living space. This modern approach is stylish at the same time not overwhelming.
8. Elegant touch of Shine
There are many types of texture and finishes. Adding an elegant touch of Shine in its Glossy finish can instantly create a wonderful contrast for your Living space, reflecting and amplifying the space making it look bigger than it is.
9. Bright and Pastel
Opt for a sleek bright wall-to-wall TV Accent wall with minimal shelving. This simple yet gorgeous and neat layout opens up the space and brightly enhance the home space.
10. Going White
Giving a balance to colours in the interior space, a full white TV feature wall is ain't a bad idea. Maximise small space by placing practical storage as well as amplifying light into the home by using lighter tones or simply white to reflect the space.
Let us know your Interior design requirement so we can plan for your dream home. 👉🏻 Talk to Us Now!

Since you're here, why not view more Home Tour Article? https://www.reztnrelax.com/category/home-tour/
🛋️ Follow Rezt+Relax for more Interior Inspiration! 🛋️
Facebook | Instagram |Youtube | Pinterest | Tik Tok | Dou Yin