When buying a Resale flat, it's likely that you'll need to renovate it whether it is due to its age, wear and tear property, or style. Resale properties need more investment in renovation, such as having new plumbing in the Kitchen and Bathroom because leakages due to faulty plumbing are always the first to appear in old properties.
Renovation should be viewed as a long-term investment, otherwise more problems may arise in the near future which may incur higher costs.
1-Plumbing & Electrical
Changing new High-quality sanitaryware is essential as the existing ones have probably outdated and won't last long. It is best to entirely change a new electrical distribution board and wiring for safety reasons.
2-Wall Hacking
As most modern homeowners would prefer a much airy and flowy home. The old-age HDB layout design may not allow that flow. So redesigning a little may be essential depending on the homeowner's preference and lifestyle. Therefore, demolishing the walls and changing the layout may be an option. You can build or remove walls according to the design that your designer is proposing. Be ready to shell out some money for this since it will cost slightly higher to hack down walls than not.
3-Windows and Grills

Another important aspect is to redo the windows and grills in the resale flat. The previous homeowner might have had dated windows that you may not need or like. Sometimes, HDB guidelines are laid out for window grills too. Therefore, you will want to get windows that do not clash with your interior design's theme.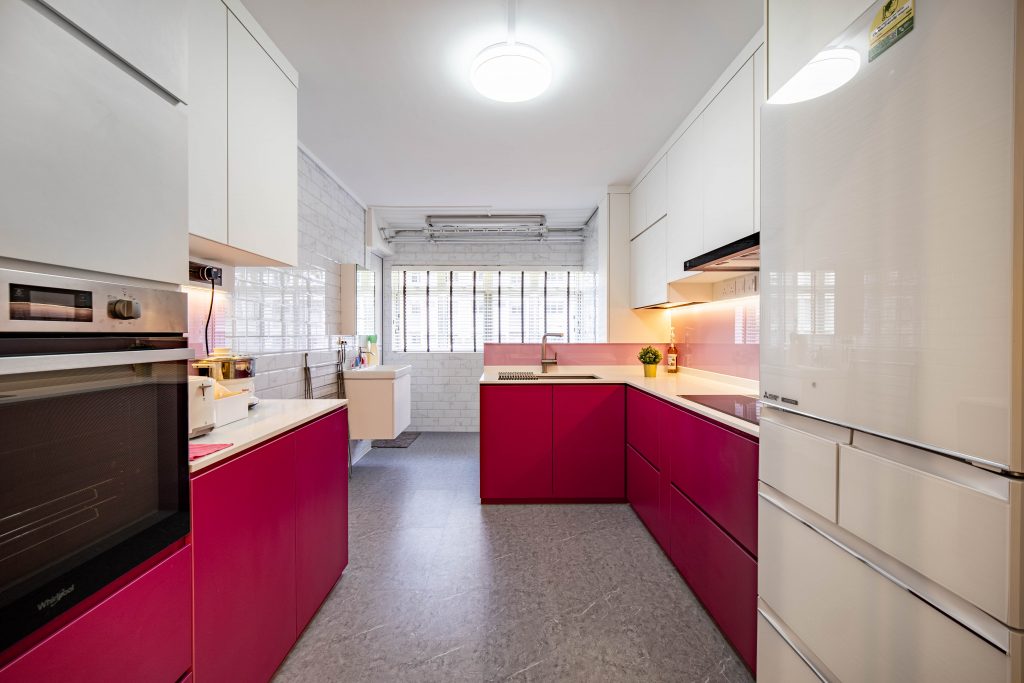 4-Tiles
Resale flats come with old, shabby-looking tiles sometimes and a way of refurbishing is to change to new tiles. Therefore, consider breaking the existing walls and flooring and adding a new set of tiles. This is also essential since the tiles must have gotten worn out or cracked over the years.
5-Built-in Carpentry
Built-in carpentry involves a fair bit of manual labour and at times, materials and fittings. Hence it's only natural to be slightly expensive when you are doing it for large square footage and a complex customized design. If you have a really tight budget, you will need to save it for the foremost necessary fixtures such as the kitchen cabinets.
6-Figure out what upgrades you would like
Buying a resale flat, chances are most of the existing things are outdated. Not only may they look old, but they also may not be as efficient or smart and updated as the current day's options.
Case-Study: For the love of the Marine Parade area, Singer-Songwriter Lingkai and her Husband Randy have chosen their first home in this 44-year-old Resale HDB flat! Randy wanted to hack almost every wall in this 74sqm flat. Our Designer Danielle notes down every requirement mentioned by the homeowner, and by incorporating it with her expertise.
In the space planning process, she has suggested remaining a sense of privacy for the Master Bedroom. Danielle has also expanded the Kitchen area by making the layout elongated. Read more, click here.
Discover what it means to enjoy life in a new and updated lifestyle 👉🏻 Let us help you with your Design and Renovation! WhatsApp @ 6597277404

Since you're here, why not view more Home Tour Article? https://www.reztnrelax.com/category/home-tour/
🏠 Connect with us and Explore creative ways you can renovate your home now! 👉Facebook 👉 Instagram ✨Youtube ✨ Pinterest 👉Tik Tok 👉 Dou Yin ✨小红书 Xiao Hong Shu