Sixth Avenue Landed House: Designed by Shawn Haw+Grace Mao Yi

One of the most livable interiors is those that can't be pinned to a specific era but integrate elements from both the history of the original home with the new mix that would spark the interior. 
This Modern contemporary landed home at Sixth Avenue remains some original old structures and finishes such as the staircase, and the feature wall at the external of the bomb shelter that has been sand and varnished to look like new.
Hidden Kitchens are a growing trend, our Creative Designer simply closes off the Wet Kitchen & Powder room with a clever door camouflaging with the wall.
The new extended dry kitchen's island matches well with the other part of the house, with its white-and-wood tones.
We've added wood textured look-alike homogeneous tiles on the wall along the side setback of the house where the homeowner does their planting activities at home.
Originally a RC Slab roof at the entrance carporch, now has turned into a teak wood ceiling that adds depth to the space. We've use texture which helps to add interest into the aesthetic of the carporch space, this timeless entryway look not only beautiful but also is inviting for the homeowner's Guest.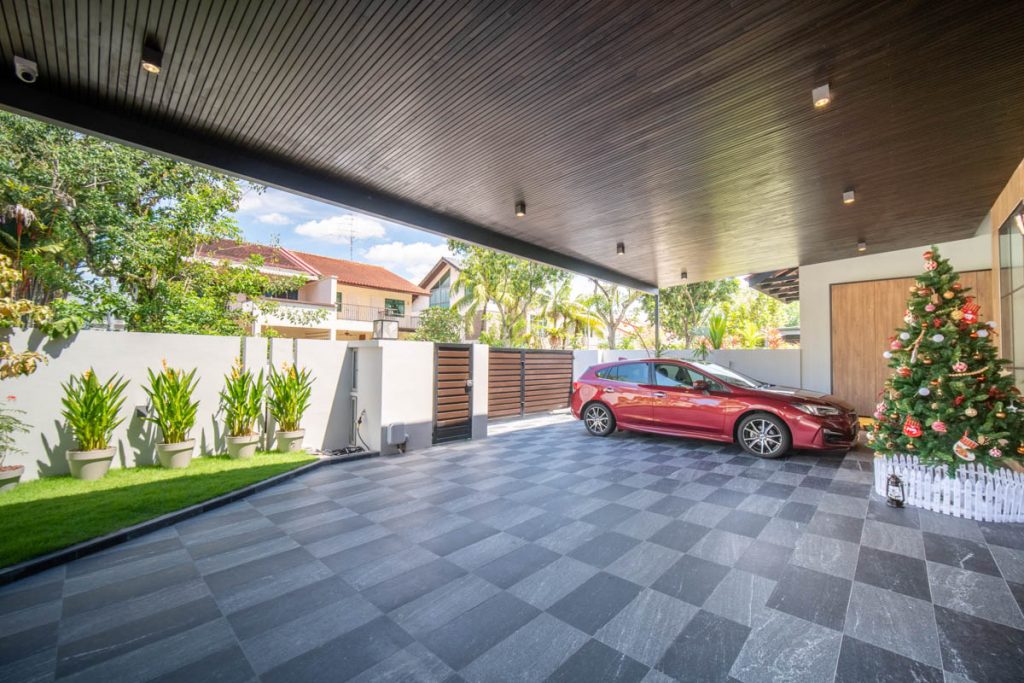 On the second level next to the staircase landing, there's a common area along with a small balcony that uses peranakan tiles to break out of recurring patterns in the house.
In the Master Bedroom on the second level, the walk-in wardrobe and the bathroom are enclosed and hidden as a secret space in the room.
While marble tiles are aesthetically pleasing and elegant, marble look-alike homogeneous tiles are used in the bathroom to beautify the bathroom space. Adding in the Jacuzzi Bathtub, turning the bathroom ambience into an indulgence space for the homeowner.
On the 3rd level where the homeowner son's room is located, the spacious room make exude comfort and openness. We've covered up and hide the exisiting window at the back of the bedhead with a cabinet's door look-alike panel which can be open in style when needed to.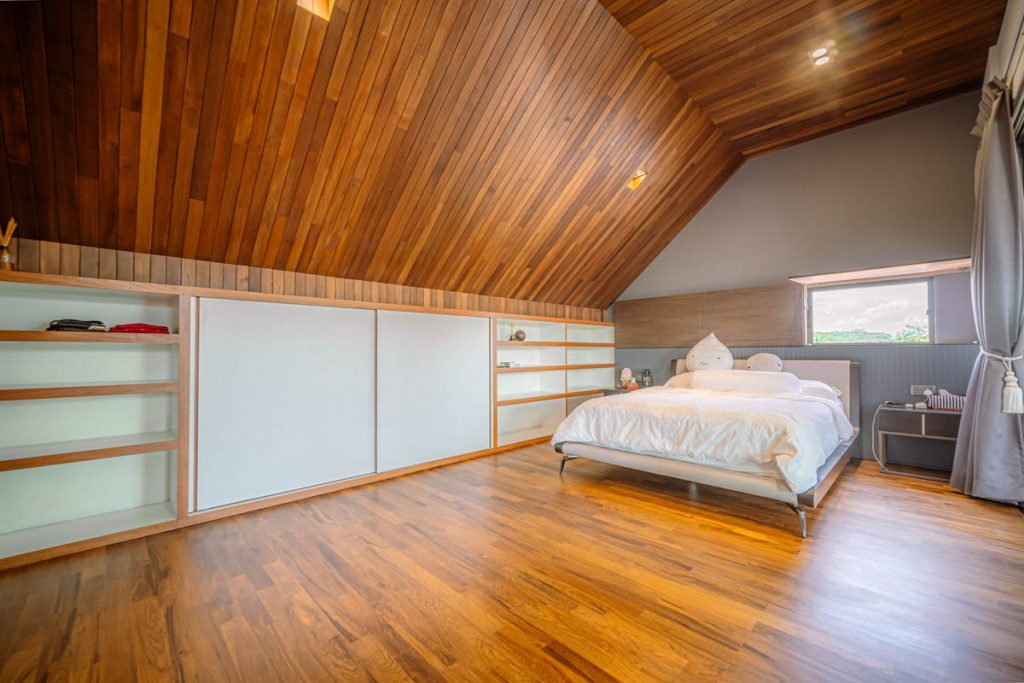 Similarly, the teak wood ceiling beautify the entire space by adding a natural touch to the room. In the balcony space, we've used composite decking that is low maintenance and is friendly for both indoor and outdoor decking.
We've completed the tight timeline given to us in this Pandemic period as well as fulfilled what our client and family need for their Lifestyle and their Dream home.
Let us know your Interior design requirement so we can plan for your dream home. 👉🏻 Talk to Us Now! WhatsApp @ 6597215338

Since you're here, why not view more Home Tour Article? https://www.reztnrelax.com/category/home-tour/
🛋️ Follow Rezt+Relax for more Interior Inspiration! 🛋️
Facebook | Instagram |Youtube | Pinterest | Tik Tok | Dou Yin