Open concept Kitchens have been made available for homeowners as an option for HDB BTO flat since 2012 and is gaining popularity among young homeowner, that residence in HDB and Condominium.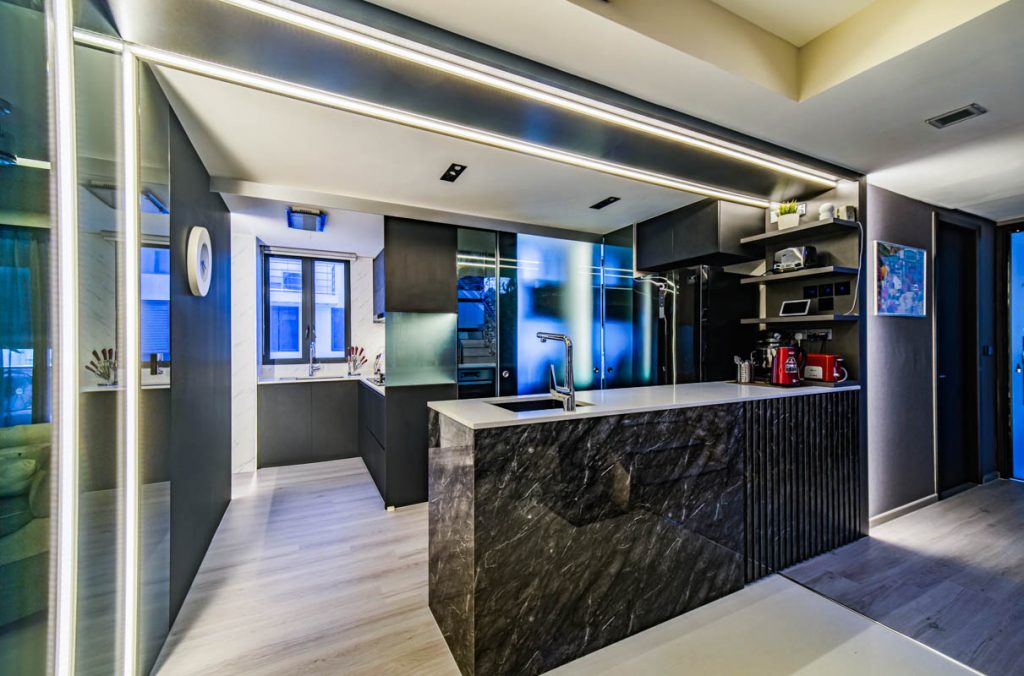 An open Kitchen as the name suggests fits the open floor layout with fewer walls and no feeling of being kept in an enclosed space with limitations. Planning Interior design for Kitchen and selecting the right Lifestyle flow is equally important. The function of the space on the other hand can help efficiency, space-saving, and keep the space free from clutter while you prepare the meal of the day.
The first and foremost is to understand your needs and requirement for the Kitchen. A checklist to study:
How Big is the Kitchen?
Is it too big or too small?
Is it near a window or the main door?
What Appliances is needed? Eg. Fridge, Sink, Stove & more…
Remember that choosing the right material for your Kitchen cabinet is important too as you'll be spending a lot of time preparing and cooking your meals in it. You will want to make sure you have materials of the highest quality and durability to aid the cooking task.
Then, as yourself which layout flow suits you and your family better? There are a few options you may go for Modern Open Kitchen space:
The L-shaped Kitchen comprised of Cabinet layout in L shape. This kind of layout maximize the allocated space, especially for smaller space area.
If the Kitchen area is slightly narrow, Galley Kitchen can be a good layout for it. It practically makes the Kitchen space much spacious with a longish layout.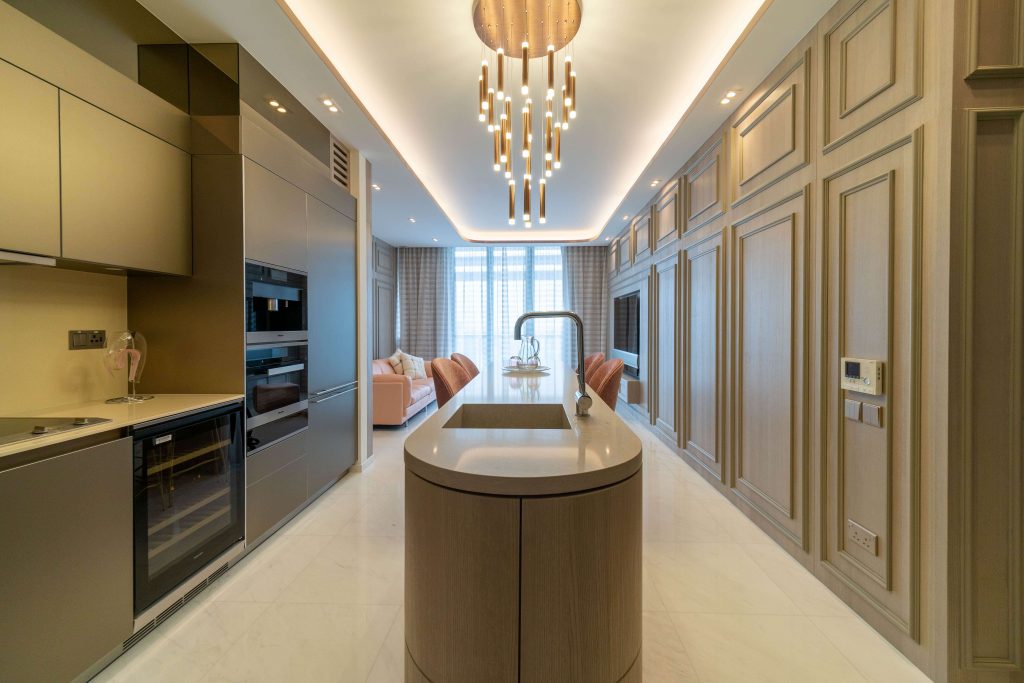 The U-shaped kitchen layout similarly looks like the Galley kitchen with an extension at the end of the Galley layout with extra functions in the Kitchen space.
You may love open concept kitchen yet prefer a space separation between the Kitchen and the Dining area. Enclosed Open Kitchen may be the option for you.
Open Shelves/Cabinet Kitchen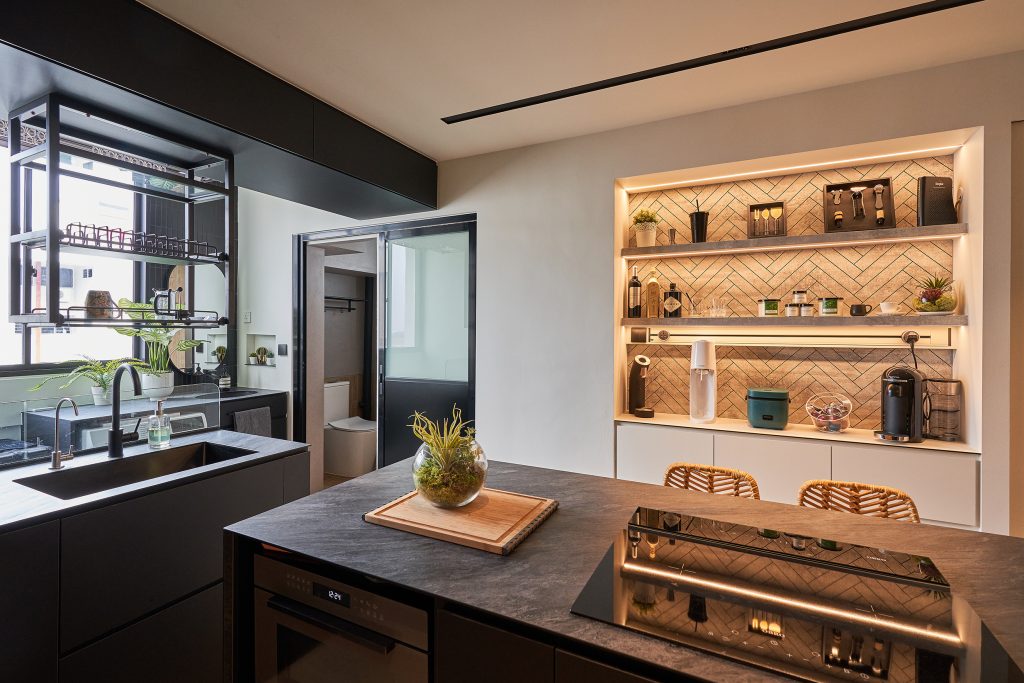 Make the space more breathable and airy by using overhead open dish tray as well as open shelvings.
Open Kitchen Island/Dining Kitchen
Combined Kitchen-dining areas can save space in smaller homes. For cosy and relaxed dining ambience, consider adding hanging lights above the Dining area.
Why Open Concept Kitchen?
It may reduce electricity bills: where there are less partition in your house also means there's more natural light coming into your house. So, you'll be less reliant on ceiling lights/lamp in your house.
Adjustable Kitchen size to suit your needs: You can open into space outside your Kitchen as well as enclose it whenever needed.
Having direct line of sight: Especially good for parents, having easy view of the Kitchen from other areas and vice versa makes it easier to monitor things around during busy times.
Showcasing your Kitchen: In this century of digital phones, having a beautiful photo backdrop in the Kitchen is foremost for some.
Every detail in the Kitchen space is carefully planned and made according to the homeowner's lifestyle.

Let us know your Interior design requirement so we can plan for your dream home. 👉🏻 Talk to Us Now! WhatsApp @ 6597277404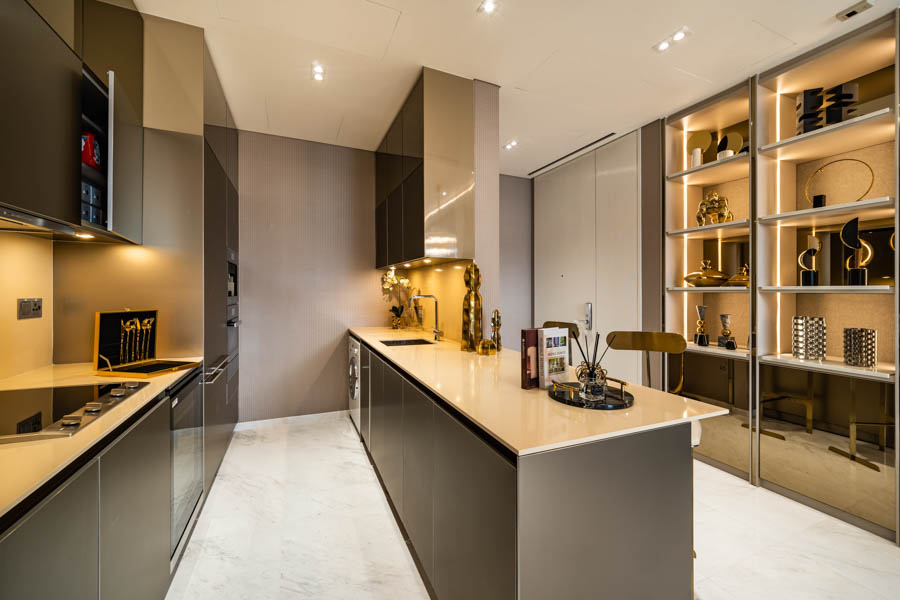 Since you're here, why not view more Home Tour Articles?
https://www.reztnrelax.com/category/home-tour/
🛋️ Follow Rezt+Relax for more Interior Inspiration! 🛋️
Facebook | Instagram |Youtube | Pinterest | Tik Tok | Dou Yin