Kitchen Trends: Open Shelves vs Upper Cabinets

As you may know, open-shelvings are a popular trend and is insanely beautiful especially when It comes to an open kitchen. We're seeing more and more Kitchens with no upper cabinets and more homeowners are looking for a Kitchen interior design that can both keep within their budget and minimally beautiful.
So, which should you choose? It's a tough decision to choose to have upper cabinets or not, we're exploring the Pros and Cons so you can find your answers through this post.

Some of the advantages to going for Standard upper cabinets with doors:
-Can look minimal, clean, and composed look
–Conceal and Hide Clutter Visual
-Easy maintenance
-Maximize storage
And the disadvantages to going for upper cabinet:
-Can make the Kitchen looks smaller and cramped
-Generally more expensive
Some of the advantages to going for open shelving:
-Popular trend in recent years
-Helps the space feels a little more
-Everyday essential in instant sight
-Things are within reach
-Can Showcase and Decorate Dishware
-Generally Affordable
-Easy to fit any space
And the disadvantages to going for open shelving:
-Can't store unattractive products or may look untidy
-May compiled dust overtime
-Sacrifice some storage, limited space
Interior styles may change overtime sometimes. Having said that, both upper cabinets and open shelving can be Instagrammable and Pinterest-worthy and can be seem saturated with Fashionable Kitchen. The thing about choosing whether it's open shelving or upper cabinets is to suit you and your family's lifestyle.

Reality has to play a role in the design of your choice. It's always important to be practical while choosing a design theme concept. When renovating your home, it is essential to make the right choices in order to not have mistakes down the line that cause you to regret the decision.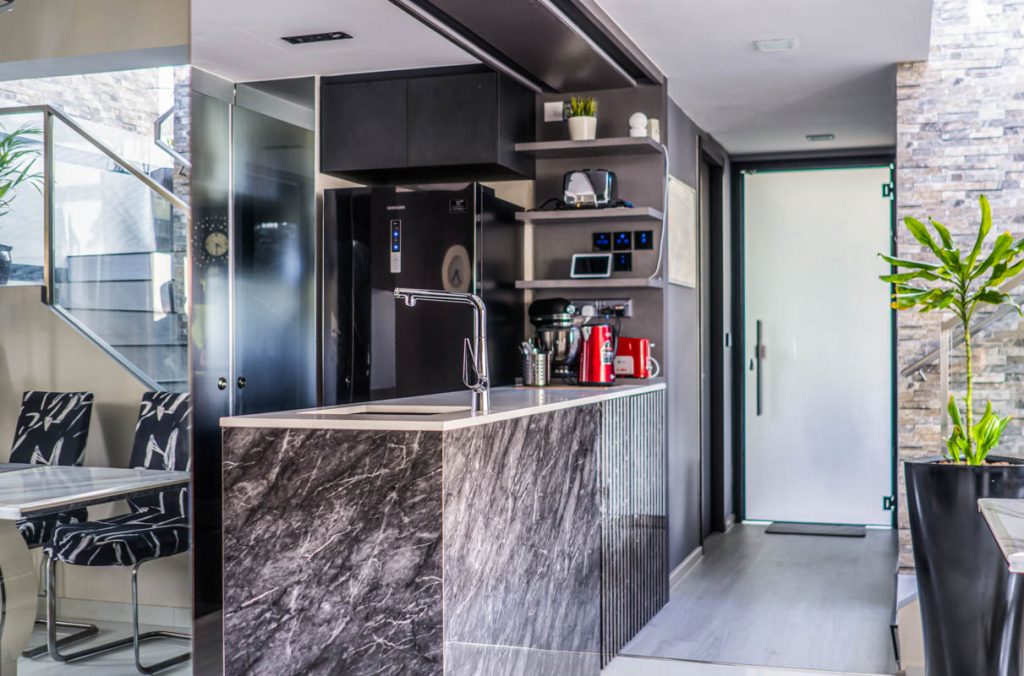 Open Shelves can be much more economical than Cabinets. If staying on budget is one of your major concerns, it's something you may consider.
Some other aspects to consider having open shelves for your Kitchen:
-How deep should your open shelves be?
-How much weight can the shelves hold?
-Do you want any design for the open shelves to match the Kitchen's overall theme?
After considering all the Pros and Cons, we hope you're able to make a more precise decision for Your Kitchen Renovation. Chat with us and let us know your Interior design requirement so we can plan for your dream Kitchen. 👉🏻 Talk to Us Now! WhatsApp @ 6597277404
🛋️ Follow Rezt+Relax for more Interior Inspiration! 🛋️
Facebook | Instagram |Youtube | Pinterest | Tik Tok | Dou Yin