Adding Casual Farmhouse Character in a Modern house, adding a sense of warmth personality, and character with a hint of minimalism.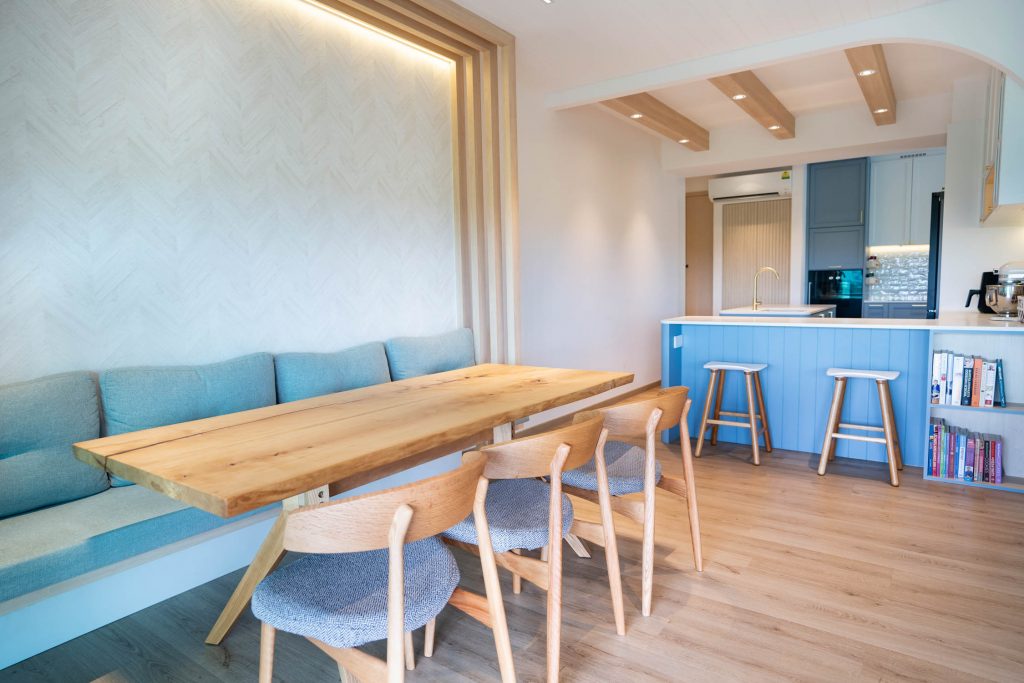 If you ever consider a Modern Farmhouse design, you may find inspiration here this is a touch of Farmhouse Interior Design with a Modern approach throughout this Condo unit at Kingsford Waterbay. And for good reason, the Modern Farmhouse design movement brings a relaxed spirit that is warm and also inviting without a hint of pretension.
Our Interior Designer Leonard Chung+Yvette Hong has artfully struck just the right balance of pastoral and refined Modern Farmhouse decor emphasizes, comfort, and casual contemporary sensibilities reflective of today's times.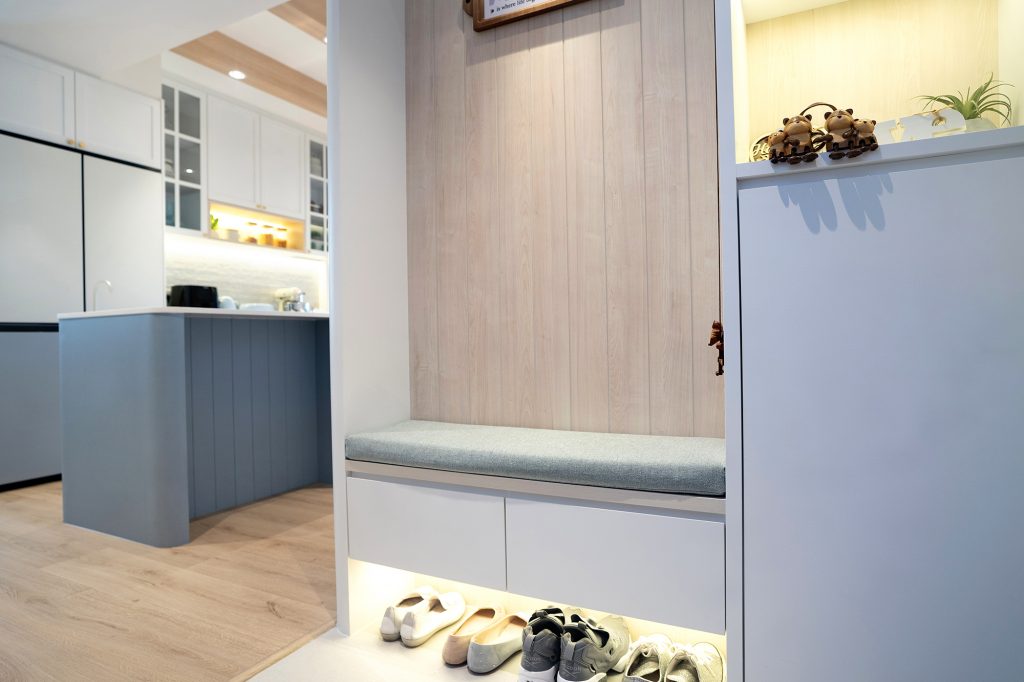 Before entering the house, the design of an entrance door is as important as other spaces, the owner has made the Main door with 3M finishes. Entering the house, homeowners and Guests will instantly feel the soothing Vinyl floor by the Floor Xpert… leading into the Living space and its balcony. At the Balcony, we're using Evorich Decking which is Durable, Eco-friendly as well as Waterproof laminated flooring. For the right coverage and protection from the heat & rain, we've also installed the Ziptrak as well as the invisible grille in the Balcony space. Both the Ziptrak, Invisible grille, Living space's Curtain & Blinds are from MC2.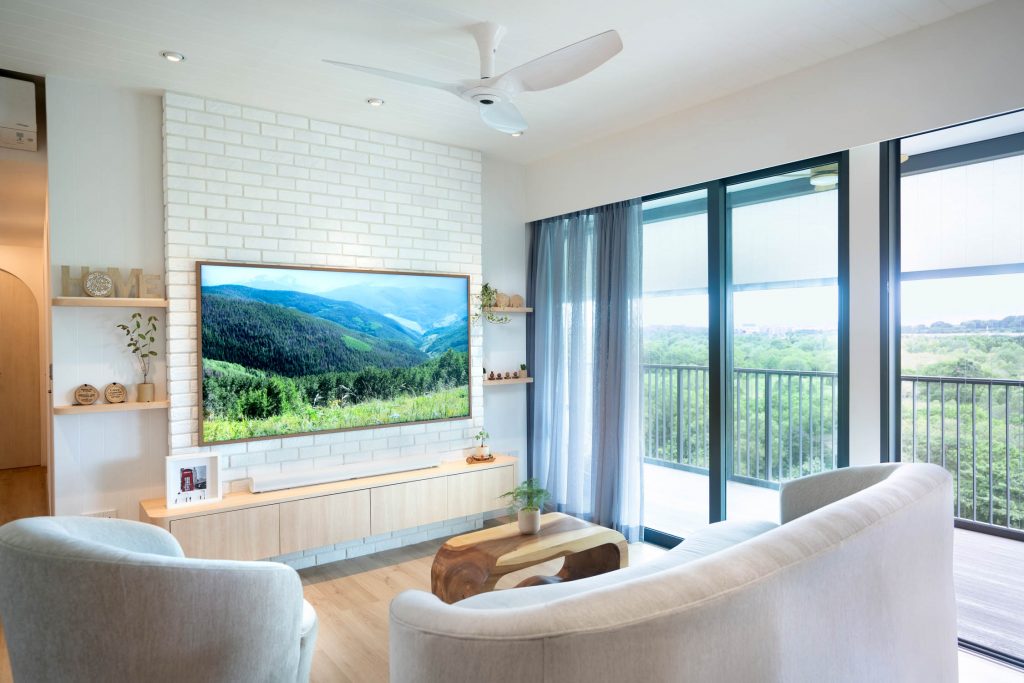 Creating a Cozy and inviting environment is key to any home. Peek through our favourite TV feature wall in the Living space, the Craftstone feature brings the beauty and appeal of stone into any design which cannot be matched or achieved by any other building materials. Bringing a beautiful dimension of brick patterns and texture into this Modern space, it looks even better than authentic bricks.
Here in the Open-kitchen, we've used the Caesarstone countertop along with the Blum for the internal cabinet's hardware. We're using EDL handle for the beautiful face frame kitchen cabinet door to provide a sleek classy look. We've specially designed a push-in "slot-in" cabinet door for the dish-drying area above the Kitchen's sink so it seems seamlessly neat when it's in use.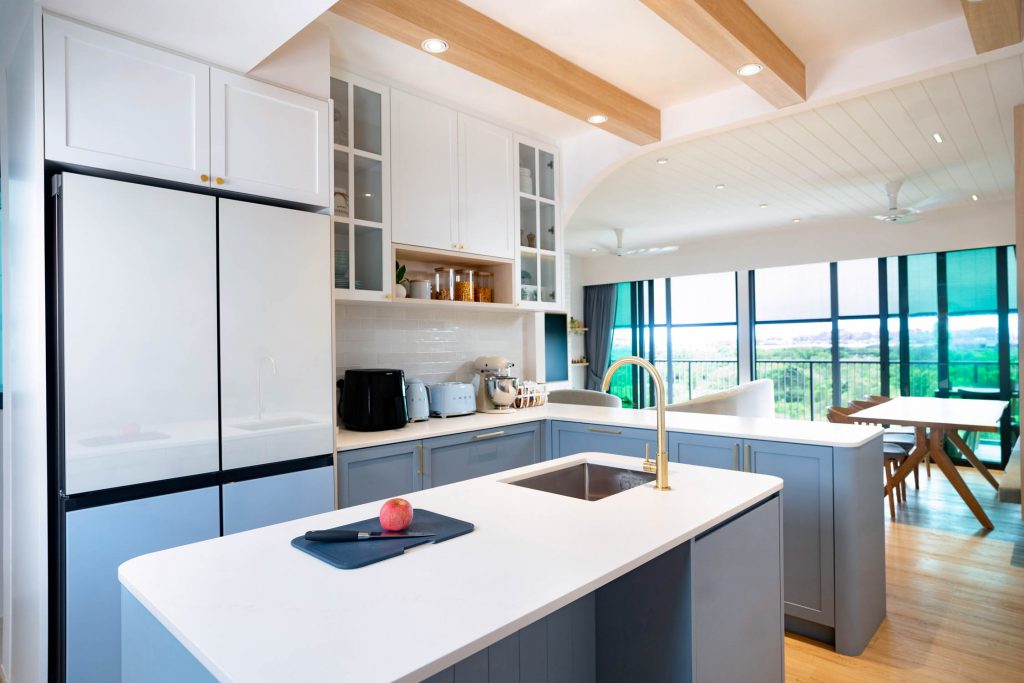 Be amazed how much an impact Statement Ceiling can make your home feels more Charm and Warm. Not only does this gorgeous wooden beam strip exposed ceiling matches the theme in this interior but it also creates tons of drama. The beautiful TAK WY 5293D laminate texture looks incredibly timeless.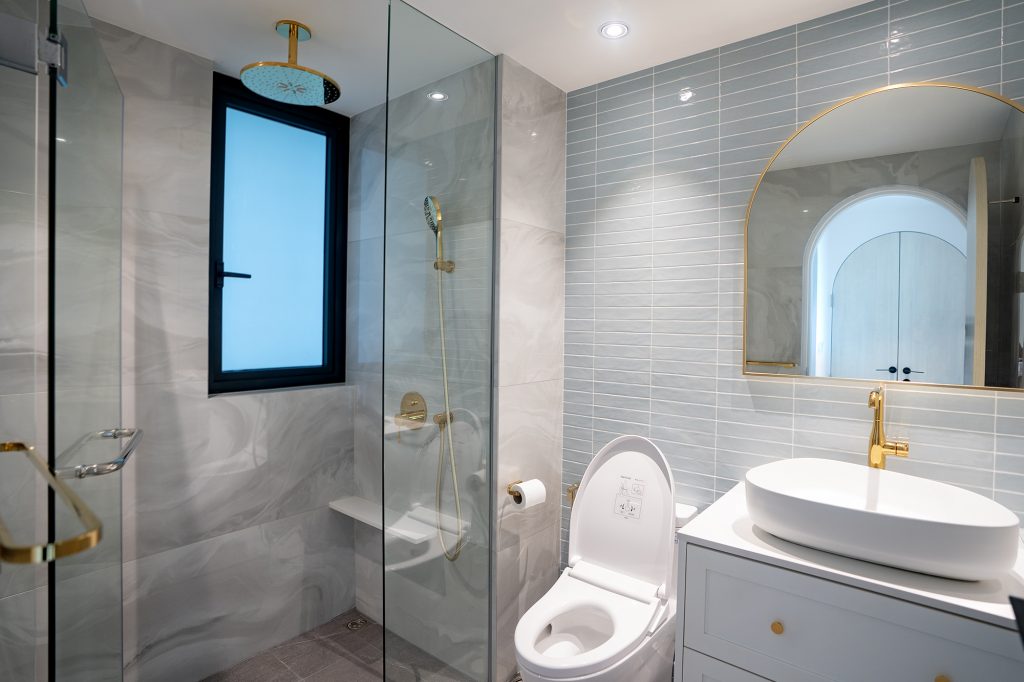 Tiles largely contribute to how a Bathroom feels, in the Master bathroom we've used white silicon in between tiles for a lifetime white finish. As some may know, this special material remains clean white for a lifetime without having to turn darker, dull, or yellowish. In the Shower space, we're using Soon Bee Huat (HT-Pol-BES-water colour white) 60x120cm tiles allowing us to synchronize with the other parts of the bathroom design.
In the common toilet shower room, we've used the Woody 20x120cm tiles from Hafary. Along with Grohe Bathroom accessories, as well as Toto brand's Toilet bowl (WC).
We've designed two Bedrooms with a similar theme for the homeowner's Twin children. Bringing two rooms into one space, we've knocked down the wall in between for an opening for their study time together. It is versatile to both open and close whenever they need.
As Arch Door is having its moment in the Interior Design trend, it somehow evokes a traditional semi-circular vibe while at the same time making a comeback in the design industry. Tempering with curves helps to soften the whole look of this house, creating a much more gentle and welcoming space.
Lighting is a key element in any Interior design, good lighting design can change and transform a space making the room feel much more comfortable. In this home, we're using elegant and sleek Sol Luminaire lighting as well as controlling the smart home with Control4. Last but not least, the attractive switches are from Schneider.
Let us know your Interior design requirement so we can plan for your dream home. 👉🏻 Talk to Us Now! WhatsApp @ 6597277404
Since you're here, why not view more Home Tour Article? https://www.reztnrelax.com/category/home-tour/
🏠 Connect with us and Explore creative ways you can renovate your home now! 👉Facebook 👉 Instagram ✨Youtube ✨ Pinterest 👉Tik Tok 👉 Dou Yin ✨小红书 Xiao Hong Shu