𝐇𝐞𝐫𝐞'𝐬 𝐚 𝐪𝐮𝐢𝐜𝐤 𝐠𝐥𝐢𝐦𝐩𝐬𝐞 𝐢𝐧𝐬𝐢𝐝𝐞 𝐚 𝐇𝐨𝐦𝐞 𝐨𝐟 𝐚𝐧 𝐈𝐧𝐭𝐞𝐫𝐢𝐨𝐫 𝐃𝐞𝐬𝐢𝐠𝐧𝐞𝐫; 𝐂𝐚𝐭𝐡𝐫𝐲𝐧 𝐋𝐢𝐧𝐠 𝐚𝐭 𝐑𝐞𝐳𝐭+𝐑𝐞𝐥𝐚𝐱. Mixed with modern-styled furnishing, this Modern Classic home with a touch of minimalist combines a modern yet simple interior space.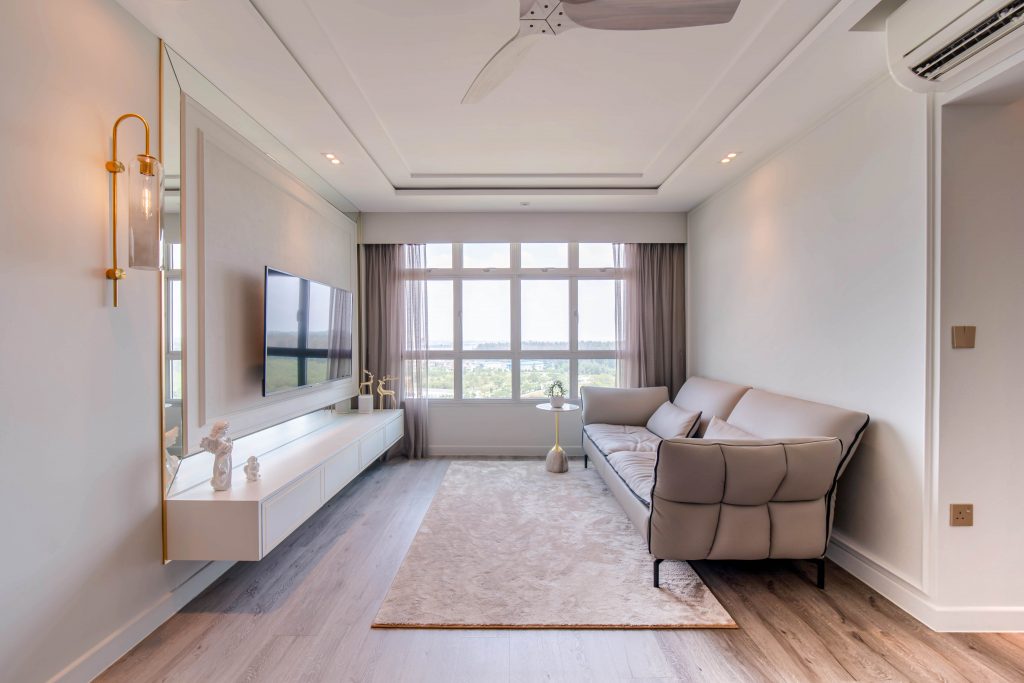 While everyone loves adding some extra-coziness inside their living space. A neat trick to amplify the cozy ambiance is often incorporating various sources of light. 
Adding a wall-mount Minimalist Art Deco light fixture, not only lend any room an elegant and artfully feel but also gives a stylish look to the space. Along with the clear sleek vertical mirrors reflecting natural light and its warmness into the house. To strike a visual balance, the grey stucco TV feature wall's contrast makes a perfect connection with the shades of grey painted wall right from the Living space, Dining area to the Kitchen.
One of the perks of blending modern and classic interior design styles is to think and understand how to mix the two styles for a much more cohesive design. Cathryn's bedroom, consists of a light colour Mild-Victorian styled upholstery headboard, paired with Marble laminated wall finish with a front wall covering finish.
This unconventional and unique bedhead that matches the colour scheme of the room satisfies Cathryn's very own personal taste. Cathryn has also added shallow storage space for her Knick-knacks with a floating Mirror as the door to this shelving storage.
Most of us dream of having a vast and spacious bathroom. One of the best ways to create a larger look in a small area is to maximize the amount of available floor space.
To contribute to a much spacious look with a touch of style, the toilet bowl is suspended above the floor.
Both Cathryn's bathrooms are integrated with concealed fixture accessories that are flushed beautifully with the wall. Last but not least, we totally love the large Porcelain wall tiles with Marble-looking veins in her Master Bathroom.
Our Creative Designer, for this Project: Cathryn Ling

We help Homeowners design their dream home. Let us know your requirement so we can plan for your dream home.

Since you're here, why not view more Home Tour Article? https://www.reztnrelax.com/category/home-tour/
🏠 Connect with us and Explore creative ways you can renovate your home now! 👉Facebook 👉 Instagram ✨Youtube ✨ Pinterest 👉Tik Tok 👉 Dou Yin ✨小红书 Xiao Hong Shu ✨Lemon8