Deciding whether you should renovate your current home or buy a new house isn't easy. So, should you stay or go?
Most first-time homeowners find themselves flustered. After all, buying a house is not all but to make it a home for you and your family members, you must also invest in renovation, that is the tricky part! Don't fret, Rezt+Relax have you covered with this one-stop guide article that would cover every question a new homeowner needs to know!
Step 1: What kind of home are you eligible to buy?
Buying housing in Singapore comes with a whole set of rules and regulations. So just make sure you meet the criteria before you buy a home for yourself. Nevertheless, look out for government subsidies and financial assistance that you may utilize.
Public housing
You need to be at least 21 years of age if you are buying an HDB house with your spouse, parents, or siblings. But if you are single or divorced (without kids) and buying a house on your own, you need to be at least 35 years old. The rule applies to both new and resale HDBs alike.
Hybrid public-private housing
If you buy a house from an existing owner, you need to be at least 21 years old and have some family living with you like parents, spouse, siblings, or children. If you buy the same house from the open market, you just need to be 21 years old and be able to afford the house on your own.
Private housing
Government regulations do not apply to private properties so you just have to be of legal age, which is 21 years old.
Step 2: What do you need to Renovate for your BTO or Resale?
In Singapore, you can buy primarily two kinds of homes: New BTO and Resale.
Resale
A Resale property will definitely need more investment in renovation than a New BTO. Whether it is due to its age, wear and tear property, or style. Renovation should be viewed as a long-term investment, otherwise more problems may arise in the near future which may incur higher costs. Some of the common Renovation for Resale HDB:
1-Plumbing & Electrical
2-Wall Hacking
3-Windows and Grills
4-Tiles
5-Built-in Carpentry
New BTO
For BTOs, renovations are on a need basis. If you have brought a new condo or HDB BTO, your renovations may be for extra storage purposes. You can opt to add hidden storage or hack a wall to create an open kitchen. It basically depends on your needs and desired aesthetics. Functional areas such as the kitchen and bathroom do not need renovation. In fact, bathrooms in new properties come with a warranty against leakages and waterproofing. Any renovation in this area will deem to void its warranty.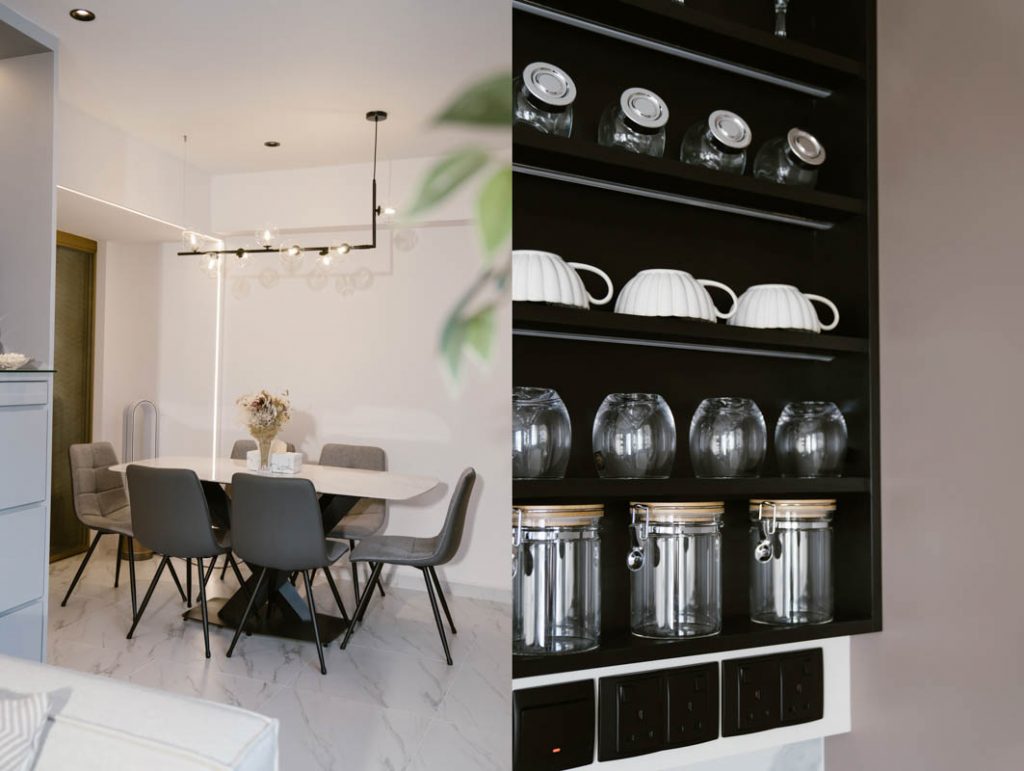 Step 3: What is the size of your family and how does it impact the renovation?
The size and nature of your family influence your Condo or HDB renovation to a great extent because it has a determining factor and effect on your lifestyle. For instance, if you have kids, you will need to childproof your home space and may cater a room or two for them.
(A) Single
If you're single, you have the Freedom to live exactly the way you want to. Your home needs to be personalized only as per your preferences. You may turn spare bedrooms into hobby rooms as you may like. Spend on what makes you happy.
(B) Couple
Being a shared space, your home should blend in with the tastes of both individuals. Young couples love to live in spaces that match up with their personality and taste.
(C) New Parents With Growing Family
Opt for an easy-to-maintain Interior design for an evolving space for a growing family, and make sure everything is baby-proof from the floor, to door, to window grilles. Leave some empty spaces so your toddler can easily move around, as your child grows, these empty spaces may be useful to convert into areas such as a study area or play areas. Ensure that there are no sharp corners in the house, and make everything with rounded edges, smooth handles, safety railing, soft closing shutters, and space-saving furniture that combines different functions.
(D) Three-generation Family
Storage and more storage are the keys to a Three-generation family. A large Living-and-Dining area is essential for family gatherings.
(E) Older Couple
Comfort is the key to a home for an elderly couple. Safety provisions for elderly people like skid-proof flooring and handlebars in the bathroom are essential. Wheelchair accessibility in the house as well as the property is an added advantage.
🏠 Connect with us and Explore creative ways you can renovate your home now! 👉Facebook 👉 Instagram ✨Youtube ✨ Pinterest 👉Tik Tok 👉 Dou Yin ✨小红书 Xiao Hong Shu ✨Lemon8