Hillington Green Condominium Designed by Nicole Chang Bo+Lynna Lestari

In this simple modern cosy home, the Living room is filled with built-in TV feature wall and display cabinet. Nothing says luxury like marble, we've blended both wooden and marble lamination to create a cozy luxurious aesthetic for the Homeowner.
The design and layout gives sufficient storage for easy maintenance of their items at home.
The existing Dining area is in a good size, so our Designer Nicole Chang extended the Kitchen as previously it was small and dull. To amplify the space, we've added a glass door in between the Dining and the Kitchen.
In additionally, we have created a new maid room using the extra space in the existing Dining area.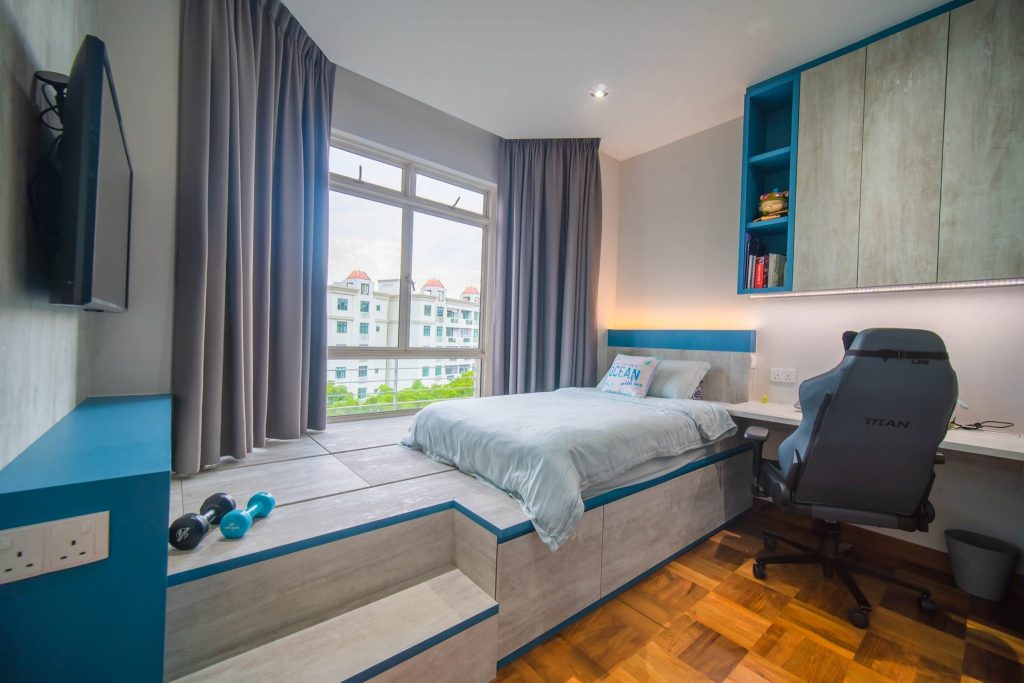 We've proposed expanding the Son's bedroom to fit the common bathroom into it. The bedroom's colour palette is blue and grey. We have also built a platform bed so he can store as many things as he needs as the homeowner's son has a lot of books.
For the Karaoke room, we have added a double glazed door and a thick curtain to achieve the soundproof effect. The wood-gold decorative laminates appears to be a Great aesthetic texture making the room fills with an additional detailing.
The homeowner did not need the extra space in the Master bathroom so we've hacked away the bathroom door and the bathtub. Building a wall for a Wardrobe space with wider storage for the Homeowner to store more clothes.
We use many warm colour lights in this home space as well as natural-looking materials together that fit in just right with the furnitures. This exudes an inviting and tranquil ambience.
In the Guest room, there are two tones of wood grain which fashions the space so well with natural vibes. Creating a cozy and comfortable environment for the Homeowner.
Every little detail in the house has been carefully thought of and made according to the homeowner's lifestyle.
Let us know your Interior design requirement so we can plan for your dream home. 👉🏻 Talk to Us Now! WhatsApp @ 6597215338
Our Creative Designer, for this Project: Nicole Chang+Lynna Lestari
Since you're here, why not view more Home Tour Article? https://www.reztnrelax.com/category/home-tour/
🛋️ Follow Rezt+Relax for more Interior Inspiration! 🛋️
Facebook | Instagram | Youtube | Pinterest | Tik Tok | Dou Yin