HDB Ideas: Clever Ways to Hide your Household Bomb Shelter

The HDB flat's household shelter is a compulsory feature in every new Housing & Development Board (HDB) flats since 1996. The bomb shelter in the HDB flat is a room with reinforced thickness walls, floor,s and ceiling to protect you from wartime emergencies.
Unfortunately, many agree that the huge white door and odd circular vent can look very out of place and unsightly. The Good News is with clever Interior designing, the Bomb shelter can be unseen from the home space with additional hidden storages.

Before we get started with the Bomb Shelter ideas, here's an overview of what can be done and what cannot be done in line with HDB regulations.
No hacking or drilling the walls, floor, ceiling, or door.
No modifying, changing, removing, or tampering of the door or ventilation openings.
Some works such as using power-driven nails on the external face of the walls, or fixing removable screws for mounting cabinets and shelves can carry out without any permits to be carried out.
Although some works are allowed, there are other guidelines to follow, to read more you may also visit Guidelines on Household Shelters on Government's sites.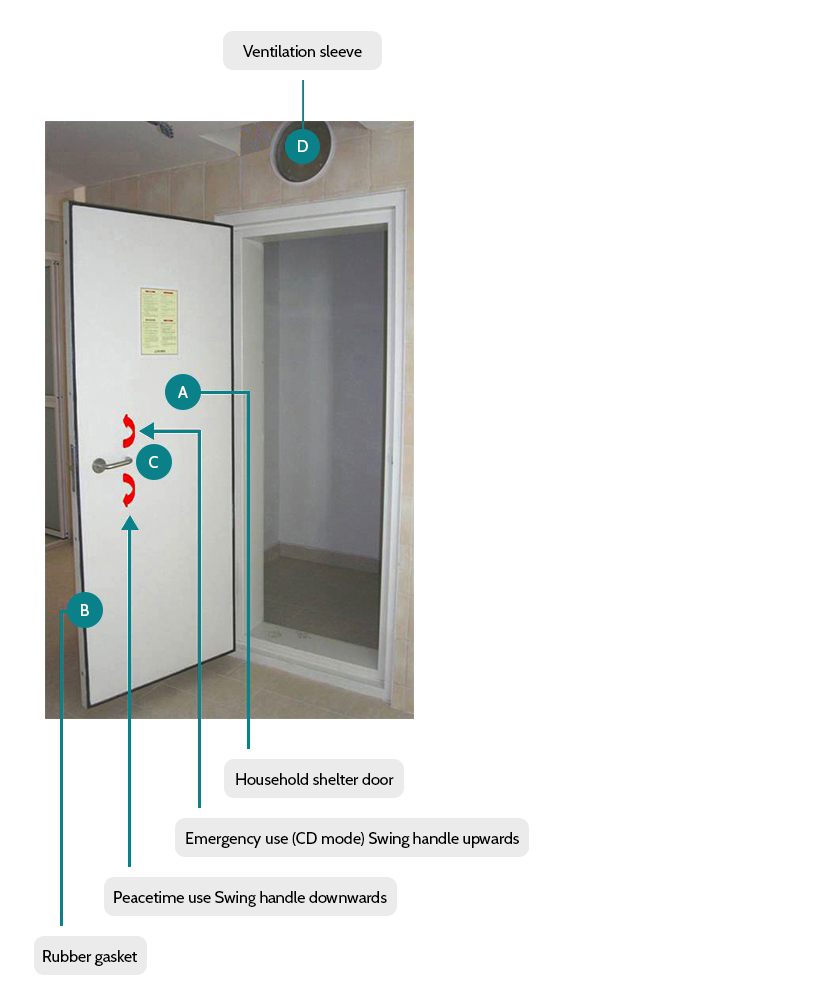 The household shelter consists of:
Door

Rubber gasket at the door and ventilation sleeve

Door handle

Ventilation sleeve
(1) One of the better ways to hide your bulky bomb shelter is to Make it Stand Out, it's not necessary to make it totally invisible. In fact, it's often better to draw people's attention to something else. For example, you can decorate the outer walls of the household shelter with various tones of wood and colours, or even some collection display. Turning your shelter into an eye-catching feature will trick people into forgetting it's a shelter in the first place, also making it appear to be more purposeful to your home design.

(2) Having a Hidden cabinet with feature walls on the outside has been an Interior trend amongst homeowners. Well, who doesn't love more storage space?
(3) Nothing gives your home the luxe factor like a Large Mirror Feature Wall. This is an especially useful tip for small homes where the mirror helps reflect and amplify natural lights and making your home space feel larger and cozy.
(4) Other than dealing with carpentry and construction works, a simple bomb shelter with a Favourite piece of Wallpaper can help to keep the home's theme simple and nice. It helps conceal undesirable parts of the bulky door and helps to keep up with space's ambiance.
(5) Inject some Greeneries with a statement feature wall filled with plants. This can also be a great way to disguise the bulky door with a pleasing aesthetic.
Rezt+Relax has been featured in the media countless times.
👉🏻 Let us help you with your HDB BTO Design! WhatsApp @ 6597277404

Since you're here, why not view more Home Tour Article? https://www.reztnrelax.com/category/home-tour/
🛋️ Follow Rezt+Relax for more Interior Inspiration! 🛋️
Facebook | Instagram |Youtube | Pinterest | Tik Tok