This HDB Executive Maisonette home features a clean woody-white Modern contemporary themed design, with a pinch of Luxury feel.
While allowing light to penetrate through the entire home space, it makes the space feels larger, allows for flexibility and the ability to create the maximum flow of the floor space.
Open-Kitchen, in general, is perfect for casual family living and entertaining. Especially where there is a Large Kitchen Island. It encourages seamless movement and interaction in the home space. Eliminating the barrier between walls, giving it the illusion of having more space.
A stylish staircase can elevate your home's style, It can also be inspiring and bring a strong sense of personal style to the home space. The material of the railing of the stairs is chosen to be sleek yet unique with a round ending design.
The bedroom is where most people spend their time regenerating, reset and that's also the reason why it has gotta be as comfortable and relaxing as possible. Designing a peaceful, serene, and soothing bedroom that feels truly refuge from the world is essential.
It's often challenging to find enough storage space in compact bedrooms, where a bed usually takes up most of the space. With limited space in the bedroom, homeowners are always on the lookout for smarter solutions that can help them in maximizing space and make the most of what they have. Taking advantage of a taller platform bed that is able to pack plenty more storage in the room helps provide more storage space as well as having it as accessible.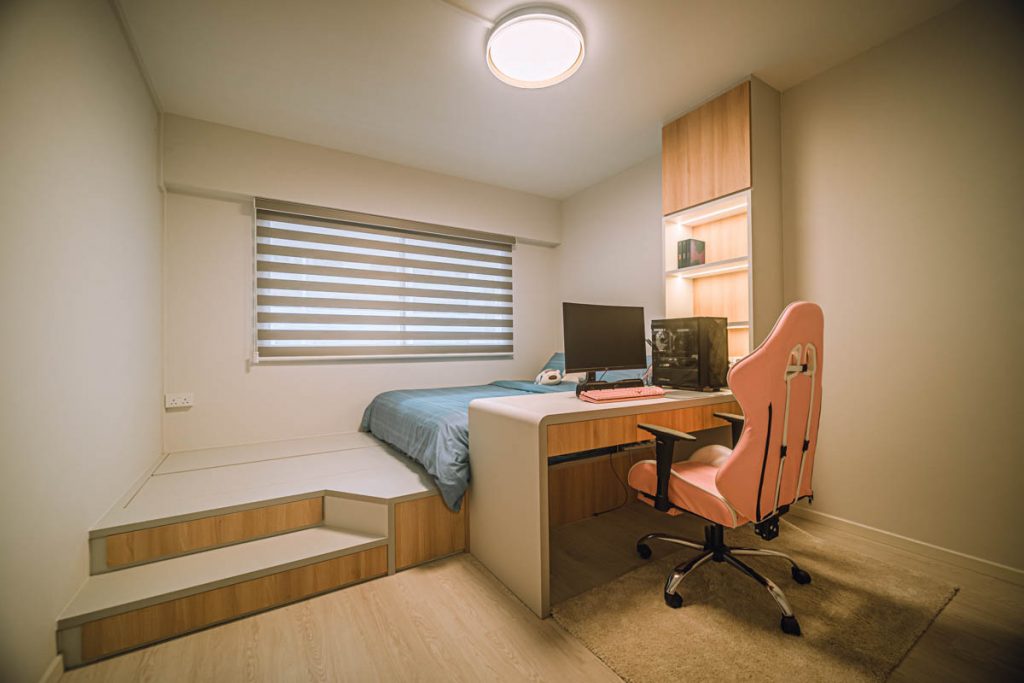 (Estimate Renovation breakdown cost: $60k for hacking 3 toilets and building up cabinetry in the entire house, +$30k for false ceiling, floor & wall tiling)
We love fulfilling homeowner's desire homes, let us know your Interior design requirement so we can plan for your dream home for you. 👉🏻 Talk to Us Now! WhatsApp @ 6597277404

Since you're here, why not view more Home Tour Article? https://www.reztnrelax.com/category/home-tour/
🛋️ Follow Rezt+Relax for more Interior Inspiration! 🛋️
Facebook | Instagram |Youtube | Pinterest | Tik Tok | Dou Yin