A classic, woody feel with a pinch of gold in this HDB Resale apartment at Yishun is what makes the Homeowner feel cozy and comfy at home.
In a home with that exclusive space where one can express their personality and style, it's a place where we see pictures hanging and decorative statement pieces placed around. Adding some warmth and sophistication to this home, we've added a stretch of fluted feature wall panel from the entrance to the Living space. With minimum yet sufficient storage cabinet for the homeowner for decluttering the space which allows for a more spacious and flowy space. Uncluttering the floor creates the perception of space and adds storage.
We placed LED lights and pin lights for this Living space to open up the space even further. The Living room and Dining area's wood paneling stood out. It created clean, sharp, continuous channels and shadow lines with style. We used a bright-tone wall colour and eliminated large furnishings to optimize the hallway.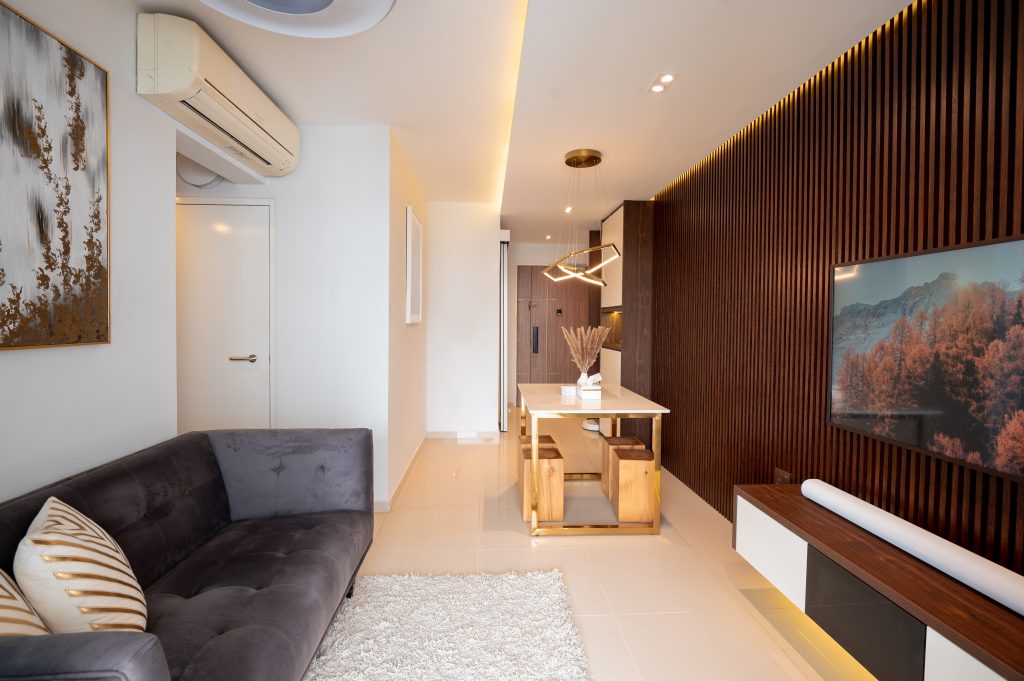 This Home renovation created a space for a Homeowner who wanted to make their home with Condo feel within an HDB unit. We've created a space that is both luxurious and cozy as well as focusing on the details that made it possible. The result is a modern-looking interior with a comfortable environment that is also easy to maintain.
Some of the smallest details can add beauty and a relaxing vibe to any space in the house. The contrast between dark and bright is one of the most classic design pairings. It's found in everything from architecture to art, and it always works.
Blending and matching this whole house, in the master bedroom, we've added some texturing as well as the fluted panel bedhead (using absolutely the same material as the Living room's feature wall). This gives the room a modern feel while still maintaining the classic style of the wood feature.
At Rezt+Relax, our services are designed to help Homeowners achieve a whole house renovation that looks precisely what they want. We'll work with our customers to develop an overall aesthetic that's cohesive, beautiful, and perfectly suited to their space and help bring that vision to life.
The bathroom is a timeless, classic style that would as well never goes out of style. We've created a cozy atmosphere that makes this bathroom feel like a little slice of the sanctuary. For aesthetics, we incorporated a backlit mirror. The bathroom lighting and look became breathtaking.
Have a little piece of paradise, tucked away in your own home now!
Let us know your Interior design requirement so we can plan your dream home for you.
Since you're here, why not view more Home Tour Article? https://www.reztnrelax.com/category/home-tour/
🏠 Connect with us and Explore creative ways you can renovate your home now! 👉Facebook 👉 Instagram ✨Youtube ✨ Pinterest 👉Tik Tok 👉 Dou Yin ✨小红书 Xiao Hong Shu ✨Lemon8