Designed by Angelyn Wong+Karen Lim: Tapestry Condominium Singapore
A thoughtfully designed private lift lobby, cozing up in an entry space filled with soft touches wallpaper and the classic gold profiling strip design.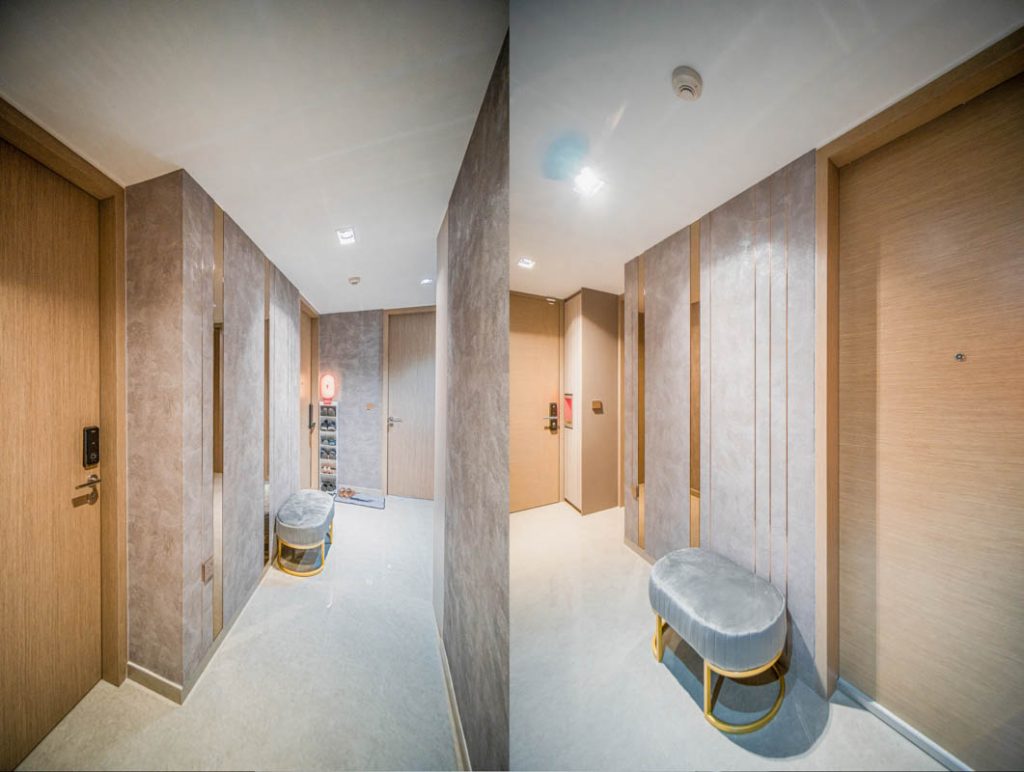 Upon entering into a Modern Lux style Living space of this unit at Tapestry condominium, it feels grand and impressively drama with its high ceiling. For easy maintenance for the Homeowner, in this home, there's no false ceiling or lighting that is too high to access. Instead, we've installed plenty of light strips at the TV feature wall and the TV console.
Details in interior design serve a purpose to enhance the space's overall look and feel, and it's important to us to pay close attention to it. Many homeowners would want to mount their LCD TV on the wall without having to see the wires dangling at the side. We've gone the extra mile to hide the bracketing of the TV mount so it's aesthetically nicer even on the side of the TV.
With the spacious floor and ceiling area, we've designed an extended Loft space accordingly to the homeowner's wants and needs.
In this Loft design, we utilize every available space we can, maximizing the play area and storage areas.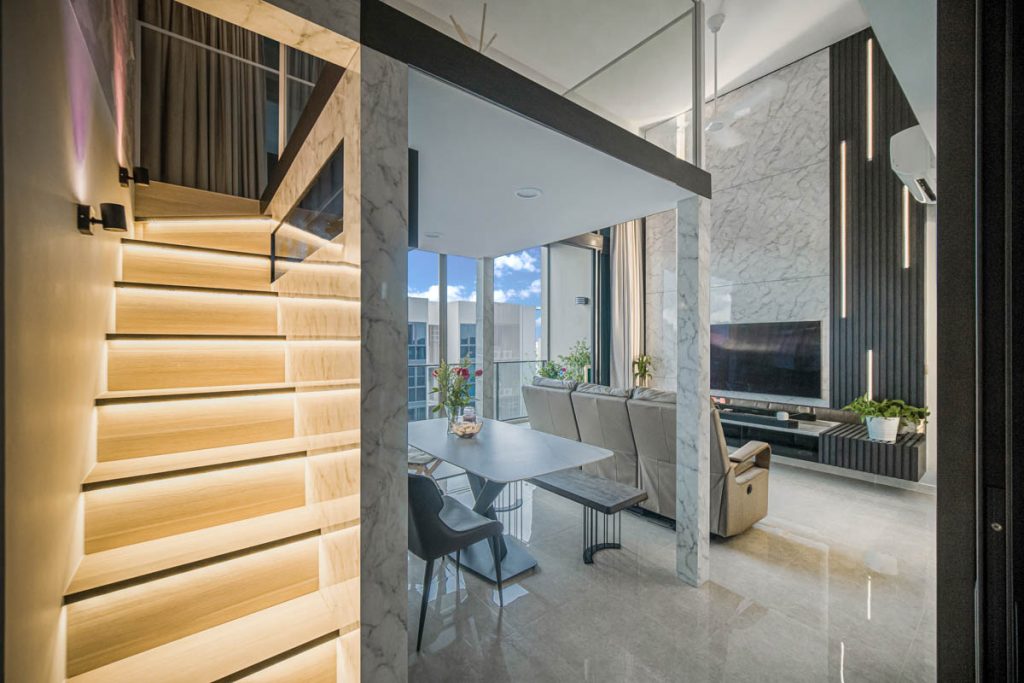 This Loft is specially created as a meaningful space for Family bonding. Not only can they enjoy quiet time together with different heights, but having their own Oasis of peace and calm space on Loft space.
As the homeowners love traveling, we've designed and installed a World-map wallpaper on the higher wall so it can be on the Loft and remind them of reminiscing traveling journey as well as inspire for future traveling journeys.
Wall Light Fun fact: We're using Phillip Hue Smart Lightbulb, it not only can change its colour but it's also Smart!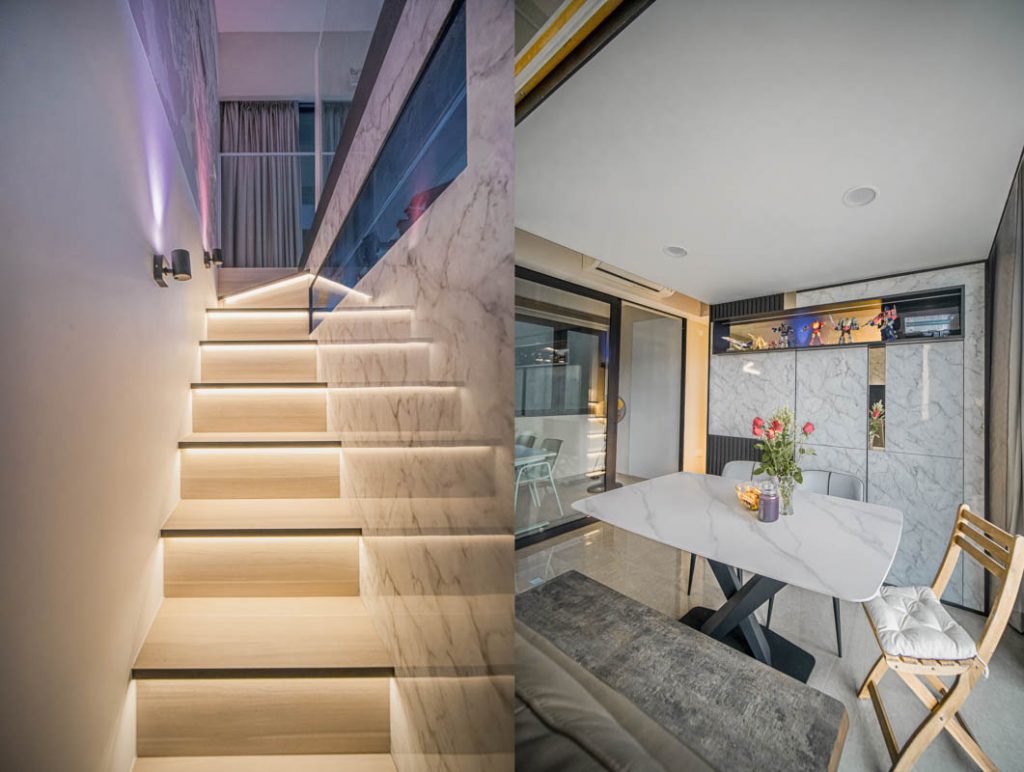 We've used the Marble Laminate as the natural stone texture can make spaces feel luxurious, create stunning vibes at the same time it's timeless.
Both the Stairway's feature wall and the Dining area's storage cabinet are using the same Marble Laminate to match the entire design.
Underneath the Loft, we've designed the Dining area with sufficient storage and a display shelving for their figurine collections which can be see-through from their Loft's stairway.
As the homeowner require to follow Fengshui within the space, the Bed in the Bedroom is at a fixed layout position. We've designed a bedhead to match with the rest of the house with sufficient storage.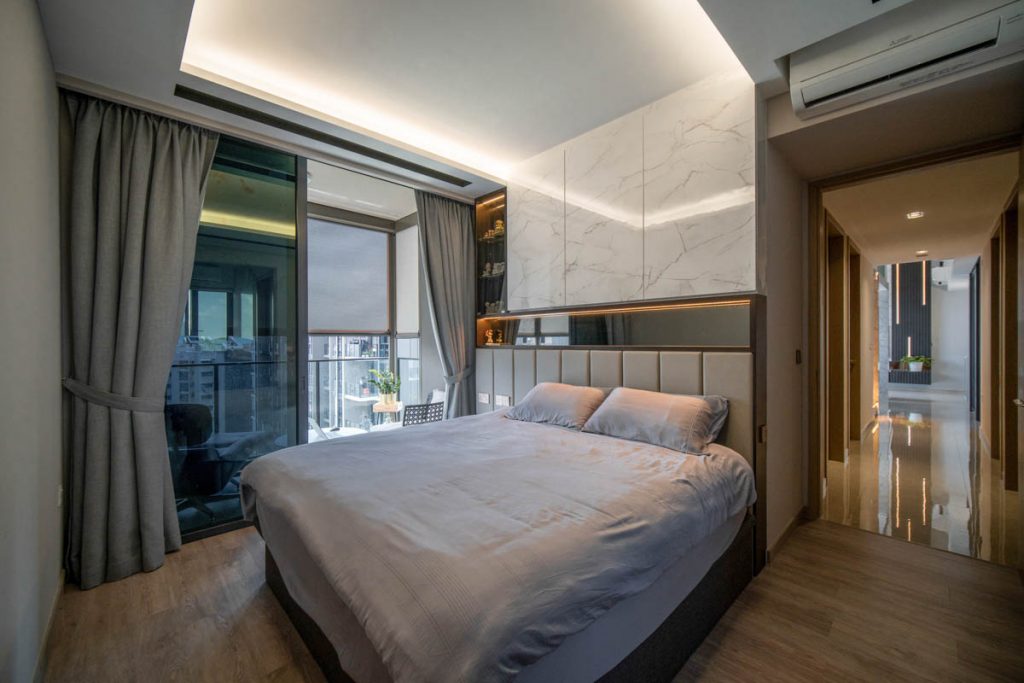 In the Children's room, away from the norm, we have strike a fancy paint on the wall for a unique look. Along with an automated collapsible table that is able to control by a remote controller. The "hidden" table is in the position where 2 people can sit opposite one another, or the 3rd person can sit on the bed enjoying chit-chat in the room.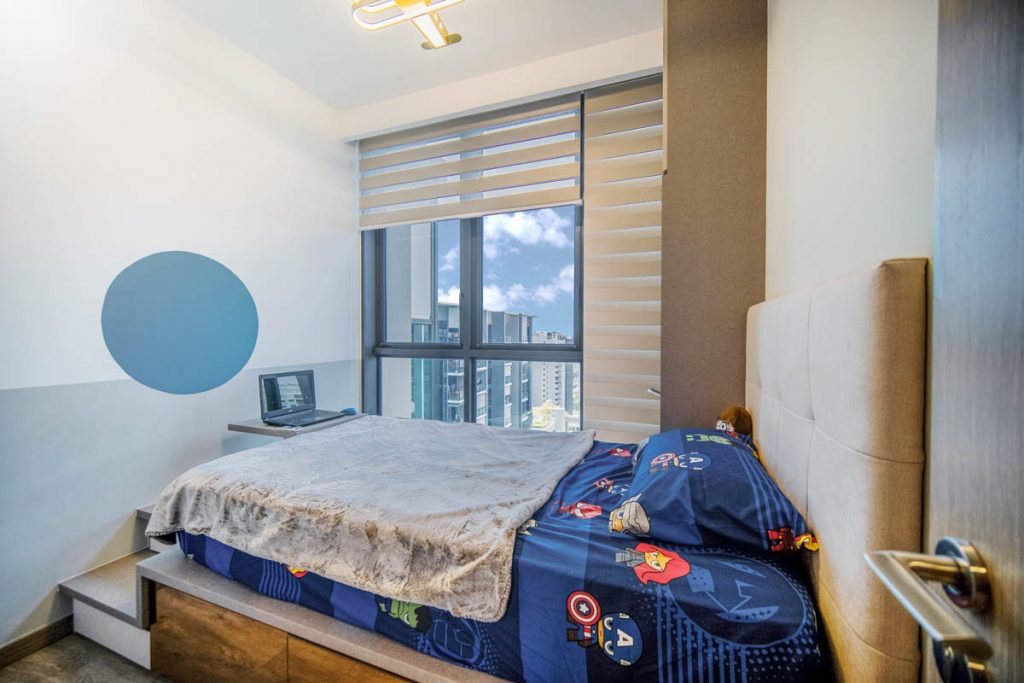 Let us know your Interior design requirement so we can plan for your dream home. 👉🏻 Talk to Us Now! WhatsApp @ 6597277404

Since you're here, why not view more Home Tour Article? https://www.reztnrelax.com/category/home-tour/
🛋️ Follow Rezt+Relax for more Interior Inspiration! 🛋️
Facebook | Instagram |Youtube | Pinterest | Tik Tok | Dou Yin