Chic Modern Dressing Vanity Interior Ideas: What is more satisfying than looking at zero-mess and non-clutter Dressing vanity?
While dressing up, have yourself a totally dreamy and super chic dressing area! With a wide Mirror and a spacious space to help you make the most out of your daily Dressing and makeup routine.
>> BESPOKE FITTED DRESSING AREA
To make the most out of space for dressing up and makeups, consider going bespoke with fitted storage that maximizes the available space and sizing of the room.
>> INSIDE-OUT DRESSING AREA DESIGN
Inside-out storage configuration can help the Modern visual as well.
A comfortable ottoman or seat can come in handy when deciding what to wear from head to toe. Testing out shoes, or resting on the ottoman, makes it practical and functional to the dressing vanity as a good pairing.
>> FULL MIRROR DRESSING AREA
If sitting isn't for you, a full-height Mirror with a hidden storage compartment can also be aesthetically beautiful and minimalist at the same time.
>> DRESSING AREA WITH A FOCAL POINT
A really simple way to transform a dressing room is to add patterns and blend with the right colour palette and tones.
>> SLEEK & CHIC DRESSING VANITY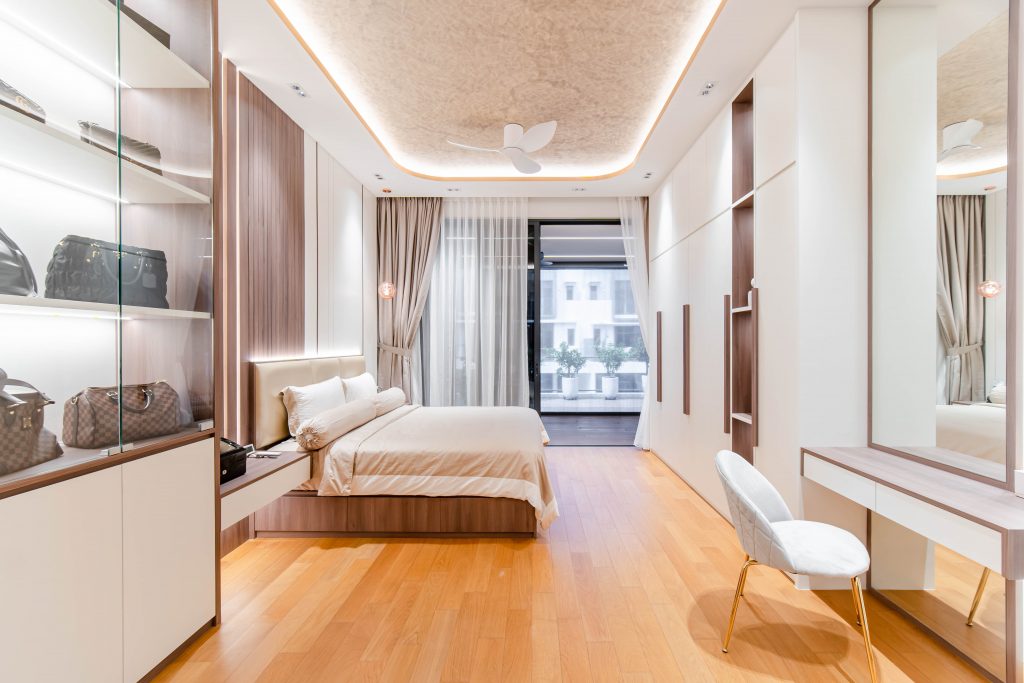 Keep it looking sleek and beautiful instead of fancy. This cabinetry and showcasing display are modernly designed with clean, smooth, and sleek lines. Designing a Dressing area together with the wardrobe spaces that nurture and inspire homeowners' Life.
When we talk about Interior design, we talk about how it can improve homeowner's everyday life. Leaving the design from time to time helping to create a peaceful, comfortable, and fun space to lived-in. Every detail in the Home space is carefully planned and made according to the homeowner's lifestyle.
Let us know your Interior design requirement so we can plan for your dream home. 👉🏻 Talk to Us Now! WhatsApp @ 6597277404
Since you're here, why not view more Home Tour Articles?
https://www.reztnrelax.com/category/home-tour/
🛋️ Follow Rezt+Relax for more Interior Inspiration! 🛋️
Facebook | Instagram |Youtube | Pinterest | Tik Tok | Dou Yin