Bishan Point Condo Designed by Alex Tan+Jacky Ho
Explore inside this old resale Condo transforming into a Modern Contemporary home! The use of wood laminates, grey hues, and a mixture of marble design brings warmth to the home, giving it a cozy and relaxing vibe.
This condo is completed in the year 2005 and has an outdated design.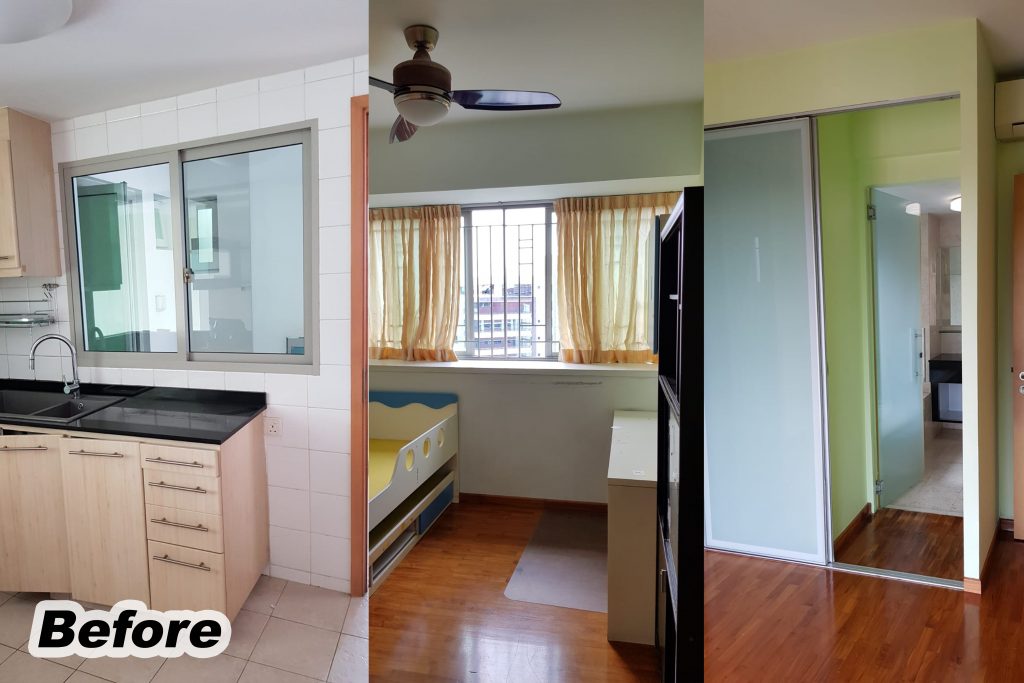 Our Designer Alex Tan have hack down the wall in between the Living space and the Kitchen to create an open-concept kitchen with a long Kitchen island that connects to the Dining area. Not only it helps to amplify the space but it also enhances a more family interaction Dining area.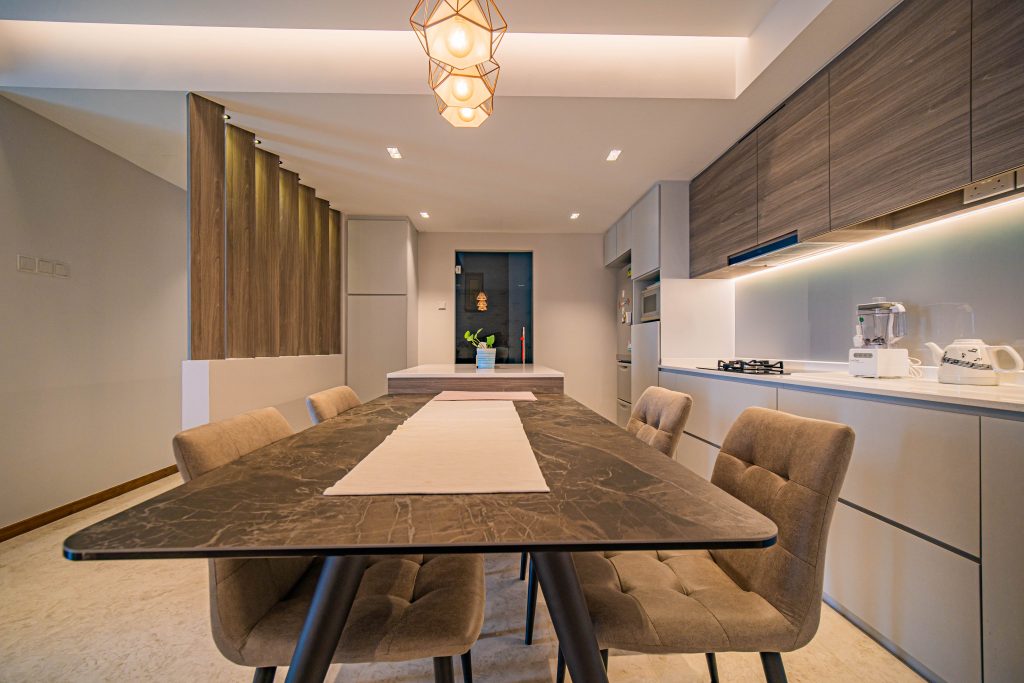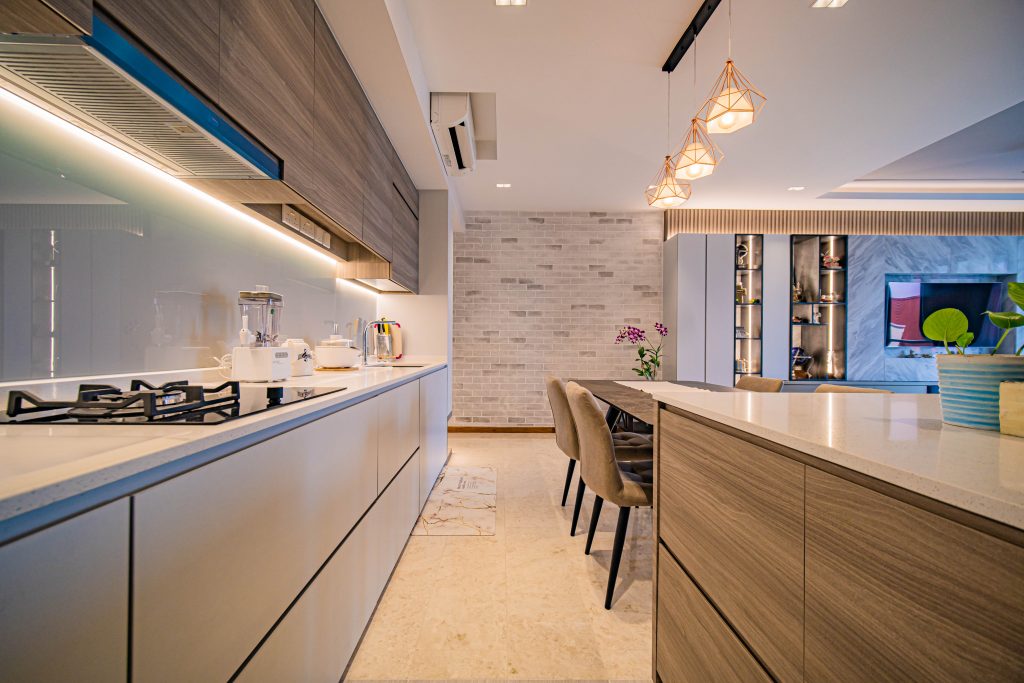 The TV feature wall in the Living space not only serves as a statement piece but also adds as functionality storage, both for the hidden clutters and showcase display.
The Marble design feature wall with wooden stripes details at the back illustrates its spaciousness by sticking to the same concept and matching material with the open-Kitchen in this connected space. It creates a nicely balance aesthetic with its appealing contrasts.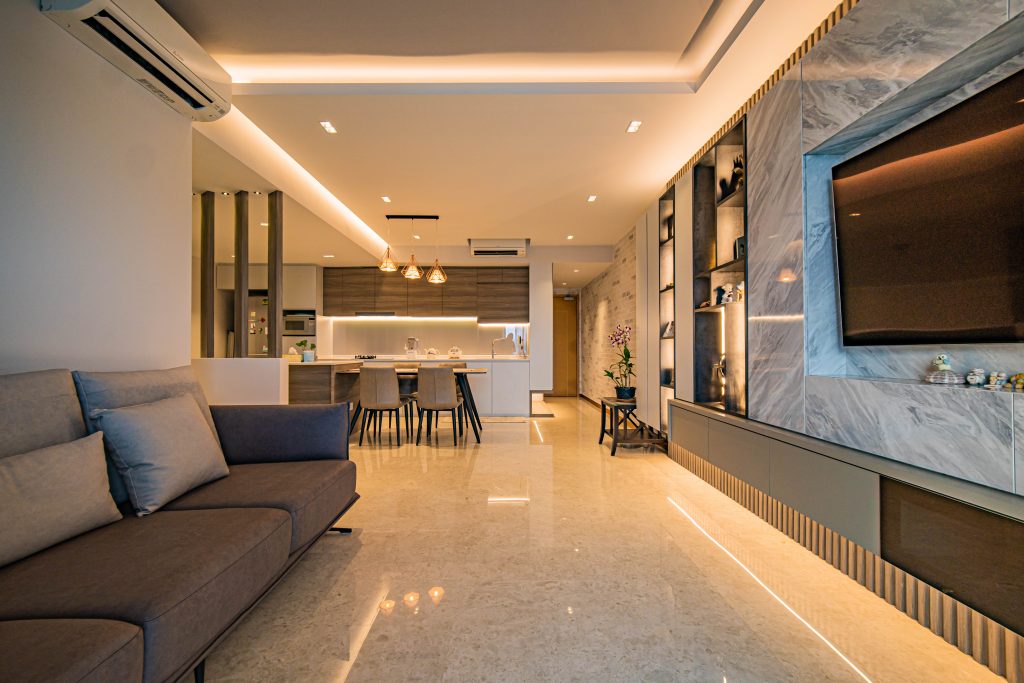 Transforming its outdated bathroom, we've removed the existing Bathtub to suit the homeowner's lifestyle as well as to create a much spacious shower area.

Our Designer Alex Tan has also suggested Marble a-like tiles for the Master's bathroom for a timeless sophisticated design. Adding along some rose gold accent bathroom's accessories to enhance the overall luxury feel in this space as well.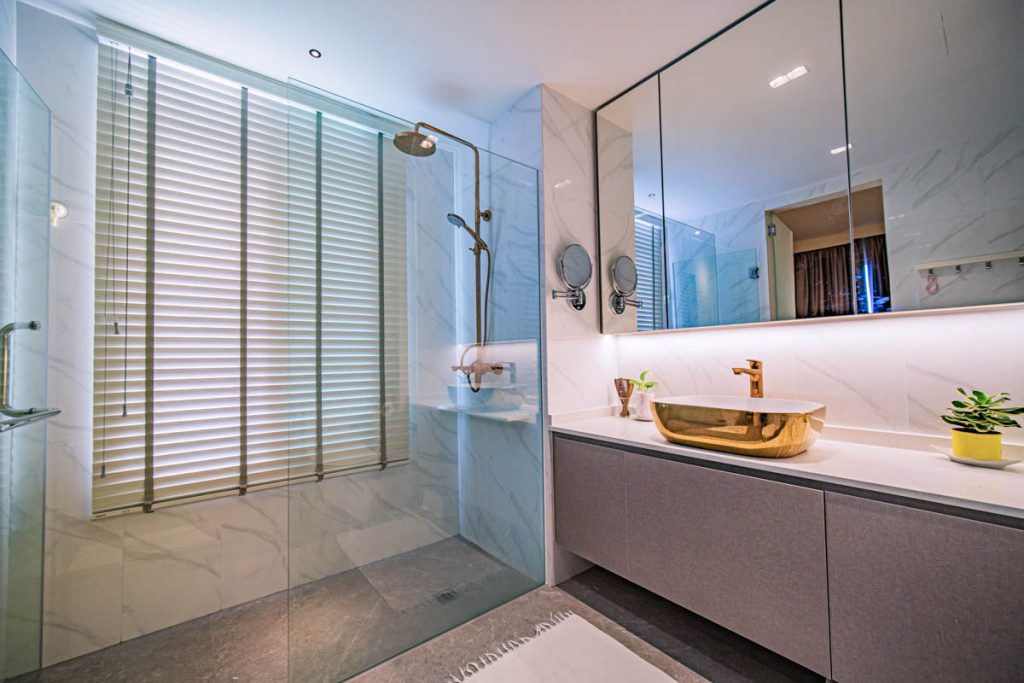 It's never a difficult task to makeover a decades-old flat. Alex pays attention to what is essential to the Homeowner, understanding most aspects of how the homeowner's lifestyle is. Putting all this important information together, and suggest the home in a better layout flow.
We've connected the Master Bedroom and the 2nd Bedroom together, which the Homeowner can easily access from the corner of her bedroom to the other room.
This 2nd Bedroom has also been converted to a Walk-in Wardrobe with a study table for her convenience.
Let us know your Interior design requirement so we can plan for your dream home. 👉🏻 Talk to Us Now! WhatsApp @ 6597215338
Our Creative Designer, for this Project: Alex Tan+Jacky Ho
Since you're here, why not view more Home Tour Article? https://www.reztnrelax.com/category/home-tour/
🛋️ Follow Rezt+Relax for more Interior Inspiration! 🛋️
Facebook | Instagram | Youtube | Pinterest | Tik Tok | Dou Yin