Taking beautiful storage to another level in this HDB 3rm flat at Ang Mo Kio. Creating tiny apartments into Chic & modern is always tricky. It's not impossible to expand and create more storage through design.
Small spaces can appear bigger with the right home furnishing and decors, a little more creative, and thinking out of the box.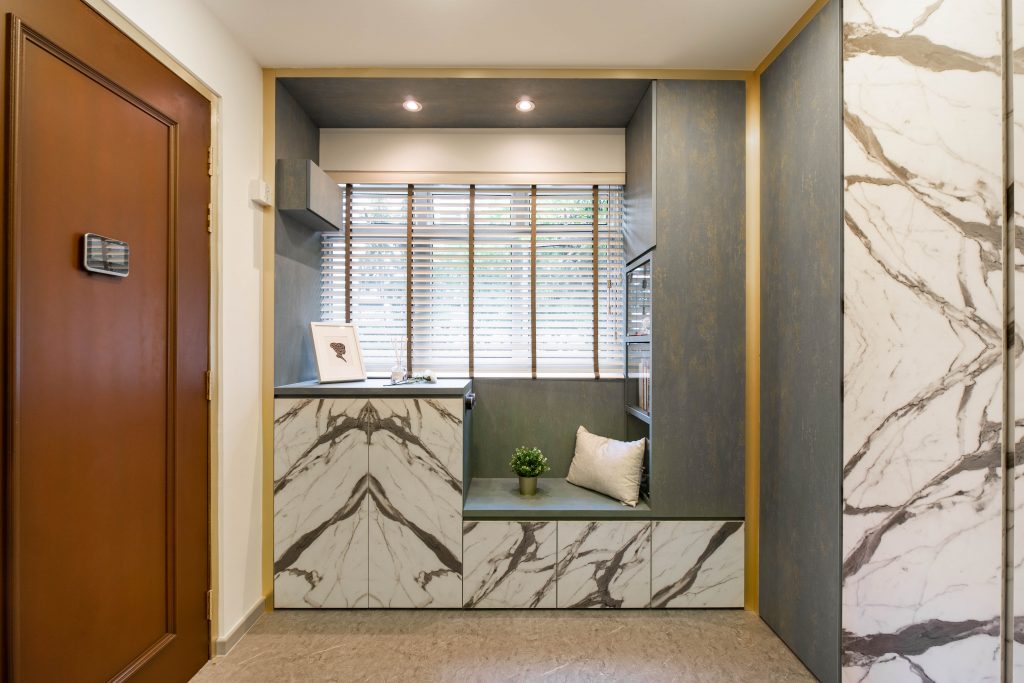 An Entryway settee bench that is both the highlight of the foyer and extensive storage space as well as a window seat, acts as clever multipurpose furniture that is perfect for small spaces. The settee can be used in many ways, such as wearing shoes, reading books, and more.
Stretching the space at the Living area with a longish ceiling cove lighting, a bright colour theme-ed space with gold profiling contrast along with reflective surfaces. Adding minimal seats just enough for the homeowner to keep the space un-clutter.

Never underestimate what this cabinetry can do, it comes with multiple hidden features such as two of the doors being entrances to the Bedrooms. As well as the TV console is made to be used in two spaces, one is the Living area and the other is the Bedroom. It may seem to be a common TV console, however, it is designed to turn and swivel so it could be enjoyed in both spaces.
An eye-catching fluted panel feature wall with LED strip light that links to the ceiling looks elegantly fit into the Interior space. The mirror also increases the sense of space and amplifies the light in the surrounding, enlarging the space in its very own way.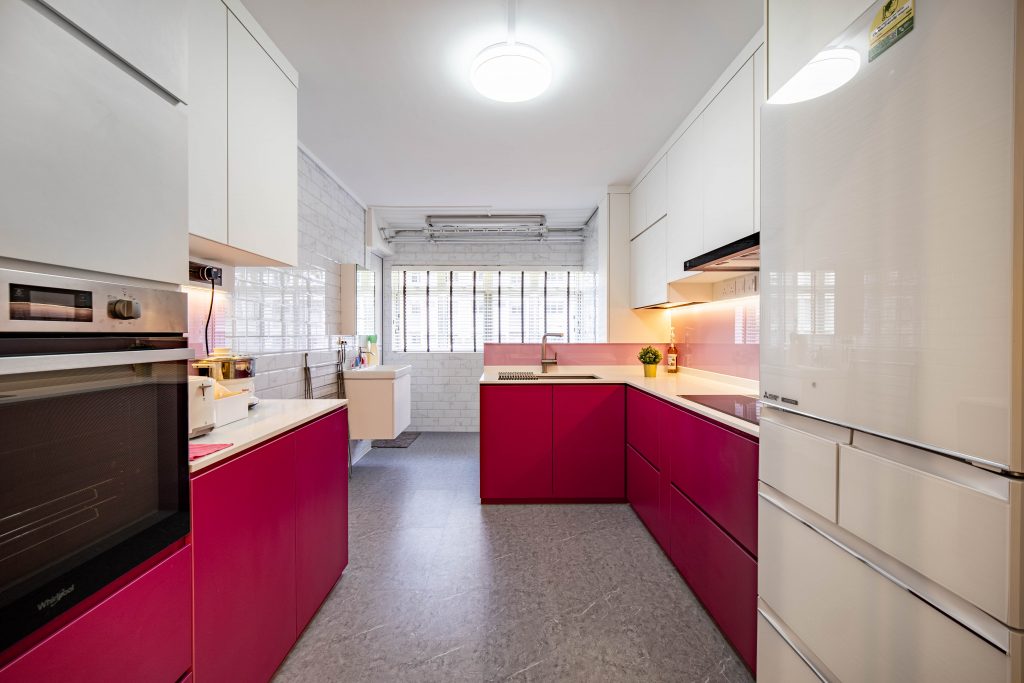 A beautiful Matt white and bright fuschia pink kitchen is a bold contrast seperates this area from the Living space. Other than the external cabinet aesthetic, the internal hinges and hardware is just as important. As you may heard about the benefits of using Excel premium hardware, this home is using its brand throughout the house.
In the Master Bedroom, A large bed and a Classy L-Shaped Corner Wardrobe is a great addition to the Interior of the room. The modern interior black aluminum framed bathroom glass panel and door add a pinch of the cool and modern elements.
In the other room, the modern terrazzo on the tabletop of both the vanity table and the working desk. This room is filled with full of LED light strip that instantly changes the dynamics and mood of the room, making it spacious and extremely well-lit.
Let us know your Interior design requirement so we can plan for your dream home. 👉🏻 Talk to Us Now! WhatsApp @ 6597215338

Our Creative Designer, for this Project: Shawn Haw+Eric Er

Since you're here, why not view more Home Tour Article? https://www.reztnrelax.com/category/home-tour/
🛋️ Follow Rezt+Relax for more Interior Inspiration! 🛋️
Facebook | Instagram |Youtube | Pinterest | Tik Tok | Dou Yin