White and Wood interior––this is a perfect combination as it instantly brightens up the home, giving it an overall elegant feel.
Create a cohesive look that allows the overall design to flow beautifully from one space to the next. This home will still look modern and chic as the years go.
At Rezt+Relax, we create a big impact in even the smallest spaces, resulting in high-quality and clean nature daylight in the home space.
Entering into the home unit, followed by the clean line to the Galley Kitchen feels like passing through a Tunnel. A way to draw the Guest's attention to the house is to create decoration, texture, and focal point. Here, we've filled the house with a feature wall opposite the Kitchen's worktop, leading its way into the Living space.

In a small space, storage is the key factor. Interior Design is the process of shaping not just the user-experience of the Interior space, but also maximizing the available space.
𝒞𝓊𝓇𝓇ℯ𝓃𝓉𝓁𝓎 𝒯𝓇ℯ𝓃𝒹𝒾𝓃ℊ: Bed that saves space without sacrificing comfort. With Dual-purpose furniture, saving space in a small space unit is never a challenge again. Murphy Bed gives you more than a bang for your buck, and space-savvy too.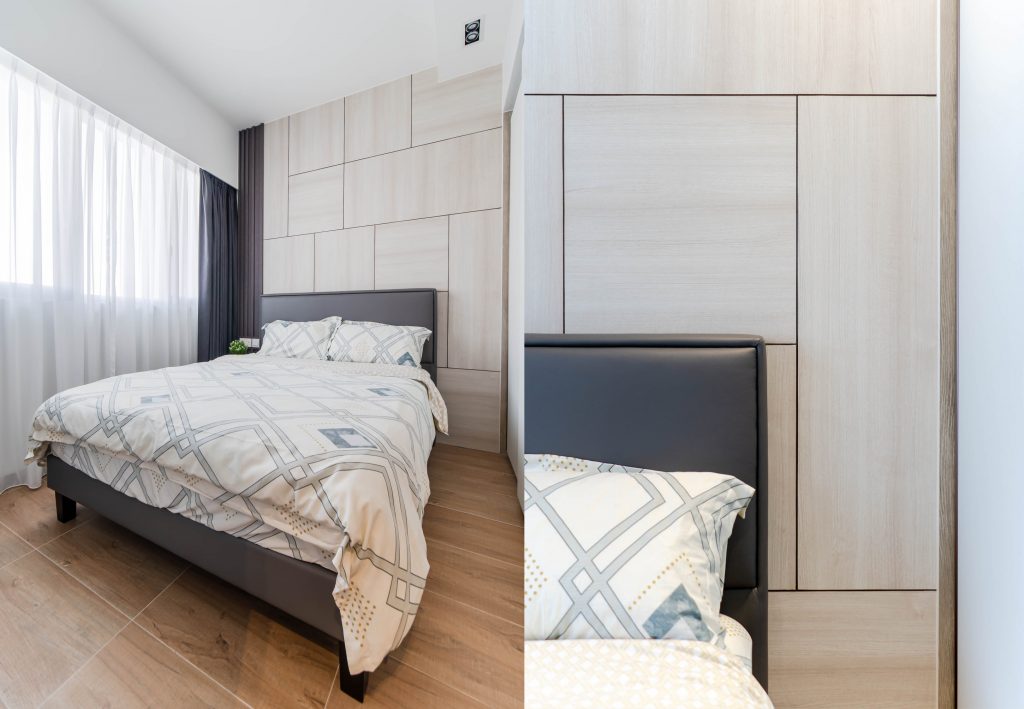 Master Bedroom connects its vibes with the Modern feature wall in the Living space and at the same time a comfortable place to relax.

Hear what Homeowners says about us:
𝑻𝒉𝒂𝒏𝒌 𝒚𝒐𝒖 𝒇𝒐𝒓 𝒕𝒉𝒆 𝒓𝒆𝒗𝒊𝒆𝒘 𝒂𝒏𝒅 𝒓𝒆𝒄𝒐𝒎𝒎𝒆𝒏𝒅𝒂𝒕𝒊𝒐𝒏. 𝑊𝑒 𝑎𝑟𝑒 𝑑𝑒𝑙𝑖𝑔ℎ𝑡𝑒𝑑 𝑡𝑜 𝑘𝑛𝑜𝑤 𝑡ℎ𝑎𝑡 𝑦𝑜𝑢 ℎ𝑎𝑑 𝑎 𝑝𝑙𝑒𝑎𝑠𝑎𝑛𝑡 𝑒𝑥𝑝𝑒𝑟𝑖𝑒𝑛𝑐𝑒 𝑤𝑖𝑡ℎ 𝑢𝑠.
We help Homeowner designing their dream home. Be it if you want a whole new look to update your current home and adopting on latest Interior trend for your New home . Let us know your requirement so we can plan for your dream home. 👉🏻 Talk to Us Now! WhatsApp @ 6597277404

Our Creative Designer, for this Project: Bernard Ling+Lucas Koh

Since you're here, why not view more Home Tour Article? https://www.reztnrelax.com/category/home-tour/
🛋️ Follow Rezt+Relax for more Interior Inspiration! 🛋️
Facebook | Instagram |Youtube | Pinterest | Tik Tok