9 Multi-function Design that is Perfect for Small Homes

Many people not only live in their homes for comfort but work and play within them as well. The lack of storage space is a common problem in most homes, it is possible to expand into more room space and storage by having multi-functional furnish and conceal storage spaces at home.
Limited storage is one of the biggest challenges in a small home. Multi-functional furnishing is a fantastic way to conserve space, making stagnant space into flexible space that is convenient in style.
Here are 9 ways to creating a Multi-function Design Home:
1 – Bench with storage
Reconsider your storage options, a Bench with storage enhance your home with comfort and creating additional spaces for your knick-knacks.
2 – Innovative Hidden Storage
Storage is necessary to keep our homes uncluttered when innovatively and thoughtfully designed, it can also help improve the shape of your home.
3 – Functional feature wall
When you need plenty of storage compartments, the floor-to-ceiling cabinets can provide storage space for the homeowner's household. Additionally, the full-height cabinet can be easily hidden in most of the feature walls in any home when it's planned well.
4 – Foldable/Collapsible Furniture
One of the best methods of making space is to opt for furniture and fixtures that can be folded or stacked up when not being used.

5 – Writing on the wall
Chalkboard coating walls add a fun element and transform your interior space with minimal effort. It creates a writable surface for notes and messages or even doodling.
6 – Murphy Bed
Adding a Murphy Bed to a small space is the way to save space without sacrificing functionality. This is a great way to hide your bed when you do not need to sleep on it.
7 – Loft bed
By placing the bed on a high raised surface, loft beds not only separate the resting space from the other area but allowing practical use of space from the area under the bed.
8 – Making Space Multi-functional
Regardless of the Interior Style, the most important thing to design a small space well is having a certain amount of flexibility and creativity. To get the most out of your space, multi-functional furnishing will help saving space for lesser furnishing in the home.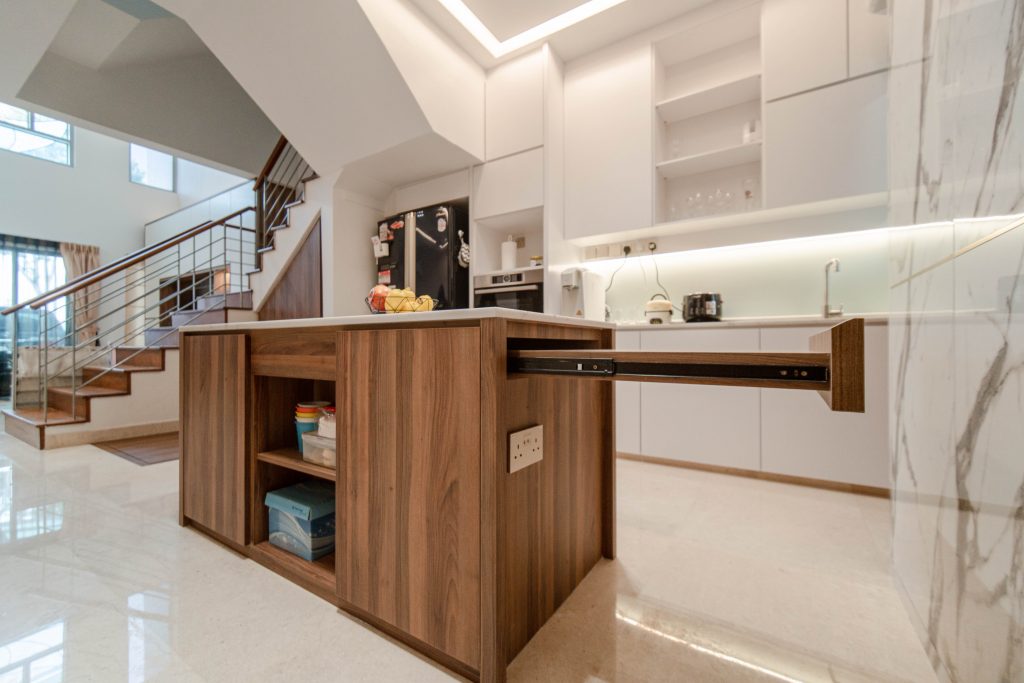 9 – Built-in Pull-out Table
When you don't want to take up precious floor space with a table. Use a built-in pull-out table from the cabinets so It can maximize the floor space especially when you are not using it.
To live comfortably in a small home space, it is important to choose Multi-functional furnish and designs. Thus, opting for advice from experts in Interior Design can help save time, effort, and headaches. So Get-in-touch with us today so we can guide you along and help you plan a design you love as well as functional to your Lifestyle. 👉🏻 Talk to Us Now! WhatsApp @ 6597277404
Since you're here, why not view Before and After of Interior Houses here: https://www.reztnrelax.com/category/before-after/
🛋️ Follow Rezt+Relax for more Interior Inspiration! 🛋️
Facebook | Instagram |Youtube | Pinterest | Tik Tok | Dou Yin