8 Ways to Nail the Modern Industrial Interior Look

As Modern Industrial Interior styles have been shaping up to be one of the recent hottest trends, we've prepared a comprehensive list of guides for your Industrial inspiration:
(1) Track Lights:
Track Lighting is one of the cost-effective, attractive and simple ways to enhance lighting and in Modern Industrial design, it is one of the most important aspects to create mood and ambience in the interior space.
(2) Go Monochrome:
Outstanding Industrial Interior design involves more than just the efficiency of the house but aesthetics. Much Industrial design tends to follow a dark and moody colour scheme. While you can decide if you would like to use Monochromatic for your home design for this. Stylish Monochrome can go beyond black and white, grey can be a great inspiration for Industrial design too.
(3) Cement Screed:
The popularity of the raw and unfinished aesthetic of Industrial design style has become popular in recent years. In particularly, cement screed flooring for the indoor.
(4) Exposed Ducts & Pipes:
Industrial home design is all about revealing raw structural elements and turning these elements into masterpieces; exposed in the ducts and pipe's naked glory!
(5) Stone Counter-top:
Natural stones and wood on Countertops can very much be related to Modern design, at the same time industrial-style design. Mainly using it in the Dining table and kitchen area, adding a little Industrial edge to Modern design.
(6) Steel Frames:
Instead of design with the mainstream elements and materials in Interior design, Industrial Interior specifically features materials such as steel frames and similar fixtures.
(7) Raw Brick Wall:
Industrial design is also about displaying building materials that are traditionally used. For example, exposed raw brick wall that is rustic yet elegant in different ways.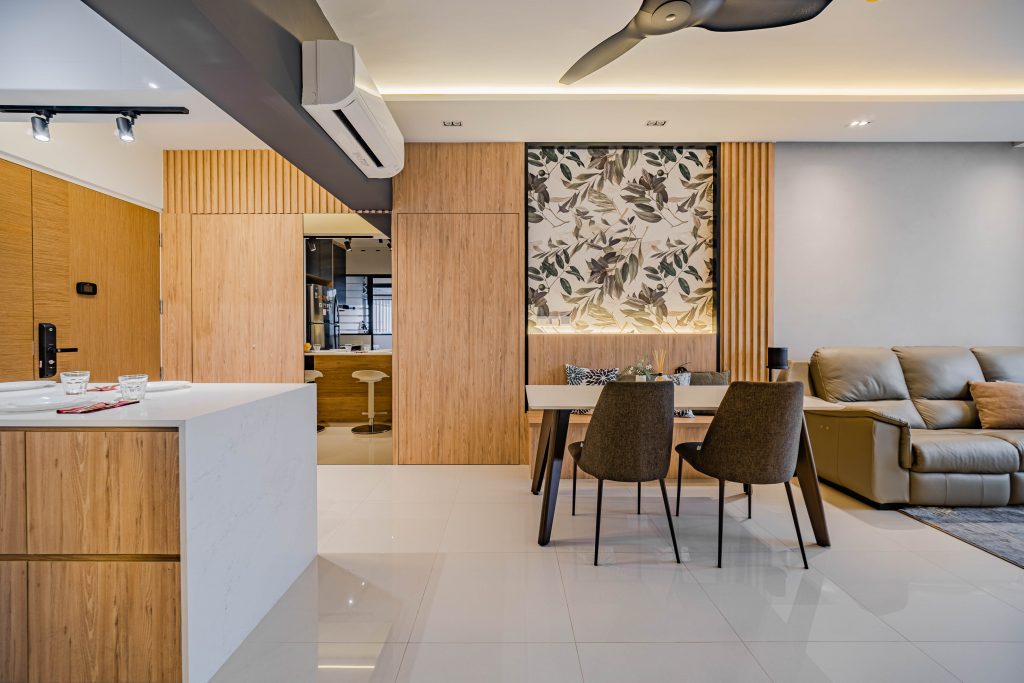 (8) Exposed Beam:
To add drama and airiness to the room, decorate with Exposed Beam and trusses constituting the ceiling components. Exposed beams offer a unique sense of belonging to the unfamed nature and it adds an additional character to the home space.
There are many different ways you can allow your home to look like Modern Industrial so pick and choose some of your favourite aspects to find a style that fits you, your family and your home space.

Let us help you with your Modern Industrial dream home. 👉🏻 Talk to Us Now! WhatsApp @ 6597215338

Since you're here, why not view more Home Tour Article? https://www.reztnrelax.com/category/home-tour/
🛋️ Follow Rezt+Relax for more Interior Inspiration! 🛋️
Facebook | Instagram |Youtube | Pinterest | Tik Tok | Dou Yin