An ensuite bathroom is like your own private sanctuary where it makes the perfect place to let your creativity run wild and having great contentment in this peaceful space.
In this article, you'll find some great tips and tricks that may help you creating your own ensuite bathroom more effectively as possible. You may already have some questions in mind, here's our planning guide to help you using clever ways to increase your storage and tips on how to style your ensuite interior.
1. WC and basins

Getting the most out of your ensuite bathrooms, you should have a much comfortable WC and basin of your preference. This is the most basic components in your bathroom, it is also one of the key component to creating the mood of this space. There are many selections you can get, you'll need to find a range that is space-saving and interest you in its design.
2. Shower Enclosure
There are a few options for shower enclosure, one of the most popular choice for ensuite bathroom would be the sliding door and the swing door. Choose the one that best suits your needs in the space and layout.
3. Metallic texture

Mixed metallic is a huge trend that is taken the world by storm. These metallic textures in the space creates a sense of visual interest and artsy yet it adds this sleek and stylish look into the bathroom. With that said, mixing different metallic such as Silver, Gold and Brass can actually balance the whole visual aspect of the bathroom. Creating extraordinary mood to your ensuite bathroom.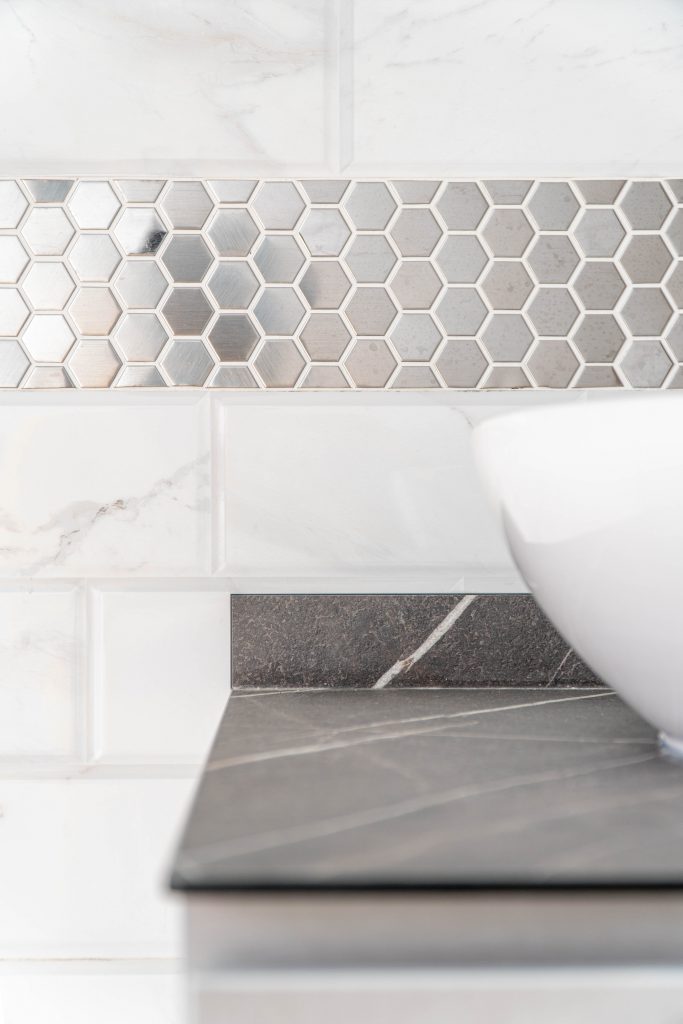 4. Floor & Wall

The Ensuite Bathroom's flooring can be of gloss or matt floor tiles. With so many options around, you will need to narrow down the choices depending on your preference and requirement.
Tips: If you select tiles with a high-gloss finish, you'll find that your bathroom feel much bigger and brighter that also mean it will look more spacious creating beautiful surface that gives you the mood and vibes of any spa center has.
Whatever you choose, make sure you select a Floor and wall tiles that is hard-weaning than those purely designed for aesthetic purpose. Quality tiles will help providing a better grip and is less hazardous.
5. Storage space

Expand your space and stay clutter-free in your Ensuite Bathroom. It is important to keep your bathroom feel spacious and airy. A wall-hung floating styled vanity can free up floor space yet accommodate to your storage needs. Deeper drawers can stores your extra towels and other toiletries.
6. Dramatic Door
A Bathroom door not only adds privacy to the space, and it won't come as a surprise that it helps your Interior design too!
7. Eye-catcher
Incorporate freestanding furnishing to make a statement in your Bathroom, it can range from many different things such as a bathtub, plants, accessories hanger and more.
8. Neutral Tones
Applying neutral colour scheme is a great way to make the most of the available space as it looks brighter and lighter that makes the Bathroom appear to be bigger than it actually is.
9. Contrasty Colour
Make your Ensuite Bathroom visually striking by adding a pinch of high-contrast colours into the Interior space. Putting two different contrast textures together adds visual weight to the space, that also mean components of the design will be able to draw the eye more easily.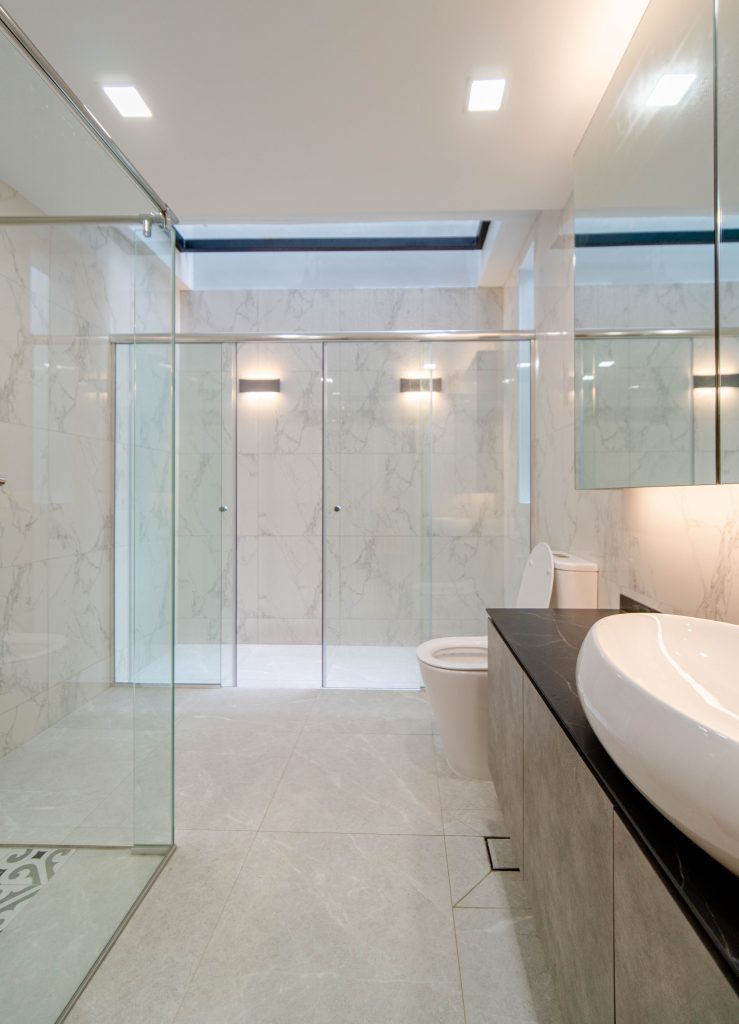 10. Soft-Lighting
Turn your Bathroom into a stress-free sanctuary with soft-lighting, it can instantly create a comforting and cozy atmosphere.
Set your mood, relax ad recharge with a relaxation bath at home in your Ensuite Bathroom.
Need some help? Have a quick chat with our Creative Interior Designer to create a sense of atmosphere for your home. 👉🏻 Let us help you with your Design! WhatsApp @ 6597277404

Since you're here, why not view more Home Tour Article? https://www.reztnrelax.com/category/home-tour/
🛋️ Follow Rezt+Relax for more Interior Inspiration! 🛋️
Facebook | Instagram |Youtube | Pinterest | Tik Tok